Compression packing
13 March 2017
Lionpak is a new range of highly price-competitive, quality compression packings that is said to have excellent technical capabilities. Introduced by sealing specialist, James Walker, it has been created to meet demands across industry.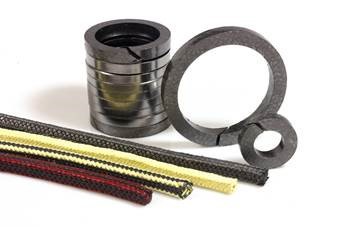 There are more than 30 new products in the Lionpak range including certified fugitive emission control packings, as well as grades for general use and specific applications on valves, rotary and reciprocating pumps, shaft sealing on rotary equipment and for static sealing duties such as furnace doors.
Based on PTFE, graphite, aramid and special fibres the new products have been designed and developed using the latest technology - yarns, lubricants, inhibitors and impregnation materials. They are made to the highest quality standards in the same ISO 9001 and ISO 14001 qualified manufacturing facility as James Walker's premium performance products such as Supagraf Premier.
Jakub Marczyk, compression packing product manager explains the thinking behind the new range; "Demand for this product is still strong across a wide range of applications in all industries and we decided that using the latest manufacturing technology and materials it was possible to create a new range that offered improvements in value and performance, whist still meeting James Walker's high quality standards."
OTHER ARTICLES IN THIS SECTION