Reverse engineering propels growth
22 March 2017
Pierce Precision offers reverse engineering of components, rapid prototyping, and the company is also keen to promote continuous improvement to their customers.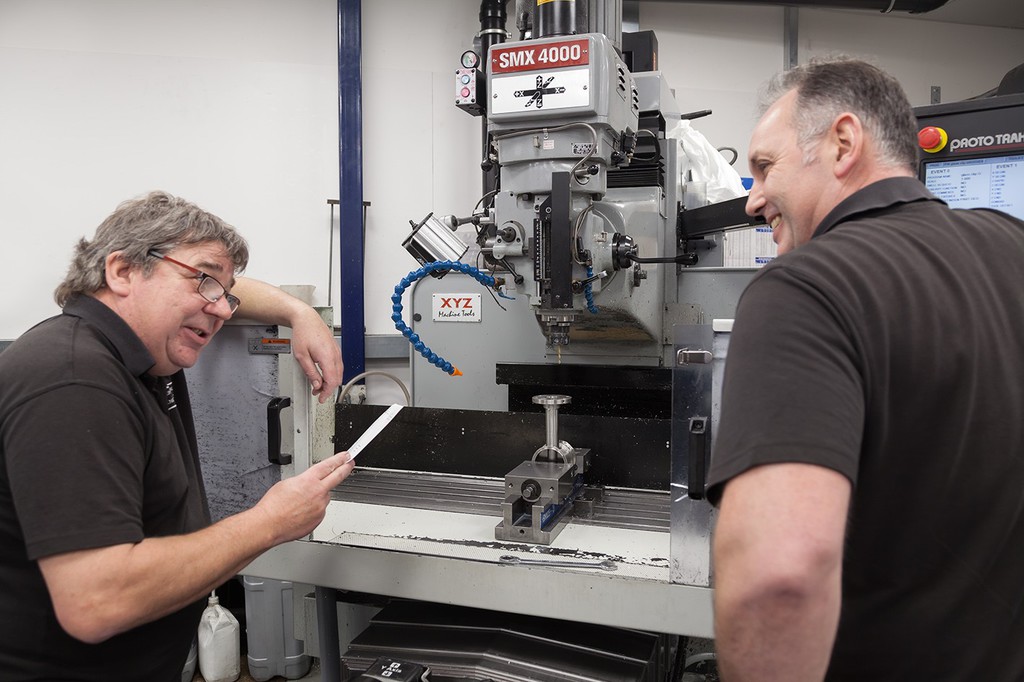 Owner Darren Pierce describes the business as 'reactive engineering' as he, along with his toolmaking colleague Peter Hurd, are often called on at short notice by leading companies supplying the fast-moving consumer goods (FMCG) or consumer packaged goods (CPG) market. "Our customers come to us through word of mouth as we have developed a reputation of delivering right first time and on-time. Given that in many cases we only have a broken or worn part to work from or, literally a 'concept sketch' drawing, we are often able to get their production lines back up and running in most cases, within hours," says Darren Pierce. It's not always that hectic, though, with Pierce Precision Engineering Ltd working closely with customers to help them to create designs for manufacture from a customer's initial idea, through to receiving CAD drawings that they can feed directly into their latest machine tool controls via a DXF file.
"Since I started the business seven years ago it has slowly grown and developed, but at heart it remains a toolroom environment capable of working to tight deadlines. We have a typical mix of toolroom machines consisting of manual and CNC turret mills, bed mills, lathes and grinders. One of our first machines, a turret mill, was purchased from my previous employer. This had been retrofitted with a two-axis ProtoTRAK Edge control by XYZ Machine Tools." This was Darren and Peter's first introduction to ProtoTRAK, and while only a two-axis version of the popular control, it was used to its full potential to produce some complex components. With this early experience of ProtoTRAK from XYZ Machine Tools, when the time came to expand the company's milling capability both Darren and Peter had no hesitation in choosing an XYZ SMX4000 bed mill, with the latest three-axis SMX ProtoTRAK control system and the optional DXF file converter.
While predominantly a low-volume production environment, Pierce Precision Engineering Ltd saw a change in business and more requests for batch work or 40-50 offs arriving. The additional productivity and versatility that the SMX ProtoTRAK control gave them, combined with the large table size of 1470 by 356 mm that allowed multiple set-ups at the same time, proved to be ideal. "We were very quickly up to speed with the SMX4000, thanks to the first class training given by Russell Wood of XYZ, and the simplicity of the machine's ProtoTRAK control. If we had any issues they were quickly resolved over the phone using XYZ's programming hotline and with the addition of the XYZ DXF converter, transferring drawings into the control and running them was straightforward.

With milling capacity updated, attention turned to Darren's machining area of expertise, turning. Given the nature of the work being undertaken there was a high demand for generated forms, which on existing manual lathes, would be virtually impossible due to the complexity and surface finish required on profiles being requested by their customers. Therefore the decision was taken to upgrade to an XYZ ProTURN SLX 425, one of the best-selling lathes in the XYZ range. It can be specified with either a 1.25- or 2-metre between centre distance and comes as standard with a 7.5 kW 25- 2500 revs/min (over three ranges) spindle with an 80 mm bore, all based on a solid cast bed and base for rigidity.
"In the same way that the SMX bed mill transformed how we milled components the SLX lathe is doing the same for turning," says Darren Pierce. "On both machines we are achieving tolerances down to micron levels, on the SMX for example we can interpolate bores to bearing fit tolerances. The performance of both machines has been just as we expected with the added advantage that while I generally carry out the majority of the turning processes and Peter focuses on the milling section, having the ProtoTRAK control on both machines means we can easily swap over when the need arises. Much as I have built Pierce Precision Engineering Ltd on trust and reliability, I expect the same from my suppliers and in XYZ Machine Tools we get that, whether we call on them for service or programming support, they are always quick to respond with a solution."
OTHER ARTICLES IN THIS SECTION