Home
>
Scottish Water keeps services on line with ABB's flexible maintenance
Scottish Water keeps services on line with ABB's flexible maintenance
29 May 2017
Flexible contracts mean that Scottish Water can prioritize maintenance efforts for its water analyzers and focus spending on its most critical installations.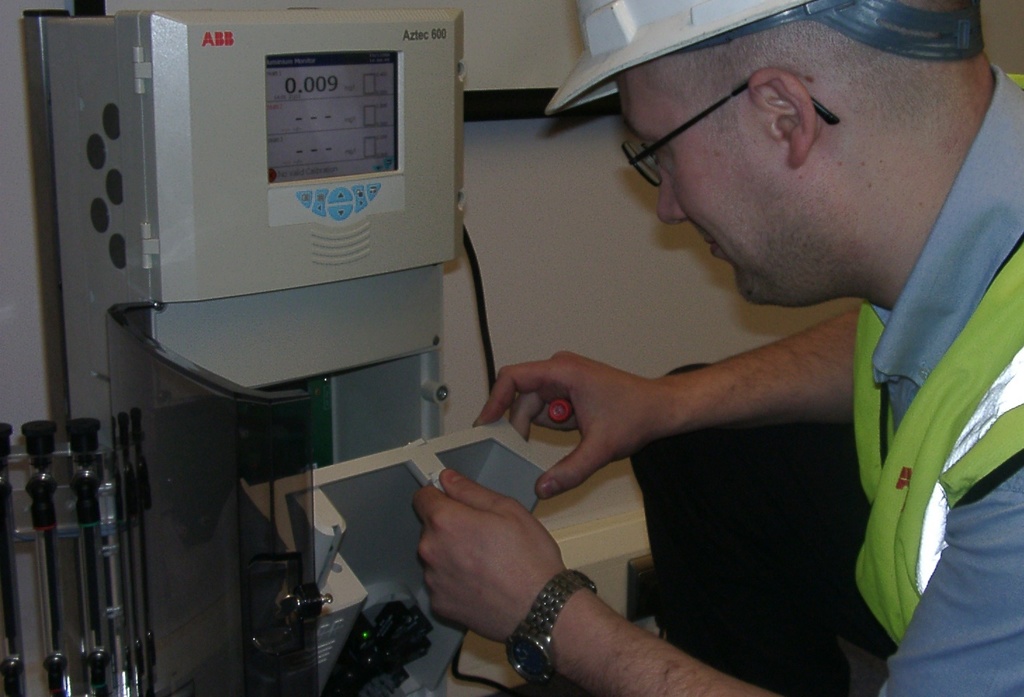 Scottish Water is using flexible ABB maintenance contracts to help it ensure its five million customers receive a continuous supply of water with minimal interruptions caused by maintenance.
As the fourth largest water company in the UK, Scottish Water is the sole provider of water and waste water services to Scotland, operating in an area of over 30,000 square miles. Scotland's geography poses particular challenges – with a long coastline of 6,800 miles, the country has a small and dispersed population, requiring a large number of small water and waste water treatment works. Many of these facilities are in remote or difficult to reach areas.
ABB water quality analyzers are used across Scottish Water's operating area to monitor and control levels of ammonia, aluminium, colour, iron, manganese and phosphate. By continuously monitoring water supplies, they help maintain levels of these substances within permitted limits and ensure the highest levels of water quality are achieved.
The analyzers provide continuous automatic measurement, with up to six readings per hour. Automatic extraction and analysis provides real-time indication of current process conditions, avoiding the time lag inherent in manual methods. This allows immediate action to be taken in the event of a parameter going out of limits.
Given the vital role played by the analyzers, it is vital for Scottish Water to ensure they are kept in good working order, something which is achieved with the help of ABB.
Colin Napier is Team Manager for the East Area, which covers from the Firth of Forth to the far north east of the country, including the Shetland and Orkney Islands. With each area Regional Manager, as with other Team Managers, he and his team are charged with maintaining and operating all the company's infrastructure from sources to tap, from reservoirs and treatment sites to the pipe network.
With eight team leaders, six covering treatment and two managing the network, there are 115 staff in total, responsible for the operation of 51 water treatment works and over 250 reservoirs.
"All the treatment works obviously have online water quality analyzers, with around half of them using ABB analyzers. The vast majority of chemical dosing applications have ABB analyzers monitoring or controlling, mainly for phosphates, aluminium content and colour," says Napier.
Maintaining these analyzers is a major challenge for a company with such an extensive network. To help meet this challenge, Scottish Water uses ABB maintenance services to ensure its many ABB water quality analyzers across its network are kept serviceable for the maximum amount of time.
ABB's care package for its continuous analyzers provides support throughout the lifetime of the product, including a dedicated maintenance plan to extend product lifetime and minimize downtime. Maintenance schedules are flexible to meet process and product requirements, with all spare parts, consumables and reagents being fully managed by ABB.
Two levels of maintenance are available – Standard Care and Total Care. Standard Care provides a program of yearly maintenance checks, including calibration for each analyzer. Total Care provides a rapid call out service in the event of an analyzer failure and guarantees a response to a breakdown within three days.
Each Scottish Water region is responsible for sourcing its own maintenance and care contract. As each regional manager knows their area best, this allows them to optimize maintenance spend by prioritizing particular analyzers.
For Napier, the major benefit of ABB's maintenance services is that the instrument gets serviced properly, reducing the risk of breakdowns, without having to rely on in-house resources.
"With ABB conducting regular servicing, we don't get a great many failures, with perhaps an incident reported every two to three weeks, which is then quickly dealt with and resolved. This is worth a lot to us – certain instruments have a control function and so we would not want to run these applications manually for long. Where instruments will need to go off site for repair, we have the extra reassurance of having bonded spares in place as back-up."
Roy Caig is Scottish Water's Team Manager for the Southern Area, covering Dumfries and Galloway, Lanarkshire, Edinburgh and the Borders. He has also used ABB's flexible approach to maintenance to help him fine-tune the servicing required by the analyzers in his region.
"Initially, we did not have the right contract for our needs. We required several return service visits for particular analyzers, incurring extra costs. To solve this, we identified the most critical analyzers and adopted the Total Care contract to cover them – now breakdown cover is included for all of these devices, saving on expenditure. For the less critical analyzers, we chose to remain on the Standard Care contract.
"The aluminium monitors are all on the Total Care contract as these are critical to our performance and we would face heavy criticism if we failed to monitor this parameter and our water quality reduced as a consequence."
The contract runs from April to March. "Throughout the contract period, we have the security of knowing that our analyzers are being properly looked after," says Caig. "ABB staff visit at the end of the contract to see if we need any enhanced care, as we can have either type of care package for each individual monitor."
Billy Gordon is senior treatment officer for Scottish Water's West region, which includes the Balmore Water Treatment Works, the largest in Scotland.
Balmore uses five aluminium analyzers, five colour analyzers and one phosphorous analyzer. Again, the care package is tailored to the most critical analyzers. "High aluminium content means bad quality water," says Gordon. "The Drinking Quality Water Regulator in Scotland defines that a low level of aluminium is 100 microgrammes per litre, while anything above 200 microgrammes per litre is breaching the limit. With ABB analyzers, we can keep our levels in the range of 110 to 365 microgrammes. As well as aluminium monitoring and the need to keep these analyzers in working order, we also need to prioritize the largest sites, which are most critical simply due to the large number of analyzers at each one."
Gordon finds that ABB are more than ready to fit in with his needs. "ABB service engineers will go where we need them to go – our most remote site is Loch Killin but even here, ABB commits to repair within three days.
"I am very happy with the level of ABB service. The analyzers are running well now and the ABB service program means that there have been no breakdowns over the last year."
ABB (ABBN: SIX Swiss Ex) is a pioneering technology leader in electrification products, robotics and motion, industrial automation and power grids, serving customers in utilities, industry and transport & infrastructure globally. Continuing more than a 125-year history of innovation, ABB today is writing the future of industrial digitalization and driving the Energy and Fourth Industrial Revolutions. ABB operates in more than 100 countries with about 132,000 employees. www.abb.com
RELATED ARTICLES
No related articles listed
OTHER ARTICLES IN THIS SECTION