Vibration sensing solutions with transmitter interface
11 July 2017
Sensonics latest range of 4-20mA sensing devices provides vibration sensing solutions for critical items of plant and equipment, such as motors, fans, pumps and compressors.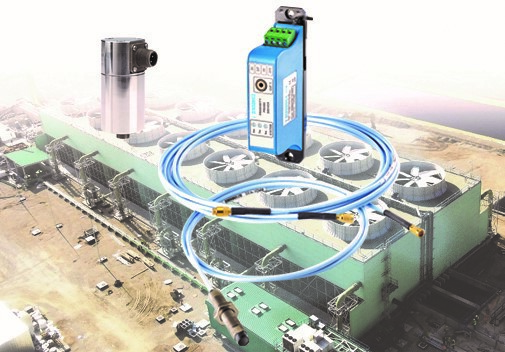 The sensor range includes the PZDC piezoelectric and VEL/GDC electrodynamic, absolute velocity vibration transmitters and the DNX80relative shaft vibration, thrust position and speed proximity probe transmitters.
The VEL/GDC has been introduced to complement the PZDC velocity vibration transmitter to ensure the Sensonics product line can cater for all machine types and industrial environments. Whilst the PZDC piezoelectric based sensor meets the requirements of ISO 10816 for absolute vibration measurements there is recognition of the need for a sensor which can meet heavy industrial demands and be used on a wide range of plant – particularly where the earth regimes are not ideal and high immunity to interference from auxiliary systems is key.
The electro dynamic VEL/GDC sensor provides a 4-20mA loop powered output proportional to velocity vibration and offers the advantage of dual case isolation in conjunction with a low impedance circuit, so is suitable for high noise environments. Due to the electro dynamic nature of the sensor assembly, both high and low frequency events are filtered mechanically and since no integration (from acceleration to velocity) is required the arrangement is immune to the saturation that can be seen in piezoelectric devices.
Absolute bearing vibration is only part of the requirement for measuring the dynamic behaviour of a machine and shaft vibration measurements in fluid film bearings are equally critical. The cost effective Sensonics solution for this requirement is the DNX80 series of processed output drivers used in conjunction with the Senturion X range of proximity probes. The DNX80 not only provides peak to peak vibration measurements but also shaft position, thrust wear and speed measurement options through a straightforward 4 to 20mA loop.
When combined with Sensonics' range of compact machine mounted housings the DN803X provides a cost effective solution for critical operational measurements, with a straightforward interface that requires no local power supply. Suitable for OEM applications, the driver also provides a raw buffered output of the vibration signal that can be utilised through portable analysis equipment for a more detailed picture of the dynamic performance of the machine.
The 4-20mA loop powered modules provide easy integration with either the local machine PLC or a plant wide DCS since it is powered through the safety barrier measurement loop. All signal processing is carried out within the unit providing an output current proportional to either peak-to-peak shaft vibration or relative position or speed.
OTHER ARTICLES IN THIS SECTION