Home
>
Small footprint rotating belt screen launches
Small footprint rotating belt screen launches
03 July 2017
Hydro International is launching its low-energy, small footprint rotating belt screen, the Hydro MicroScreen for the UK Industrial sector.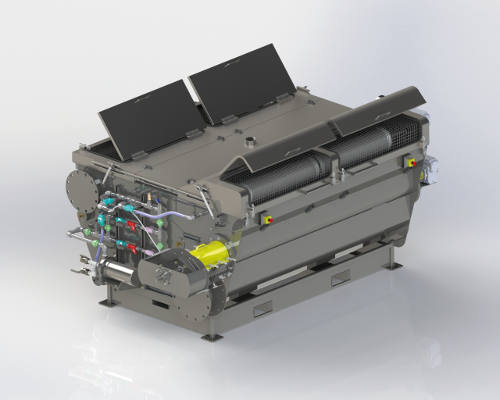 The Hydro MicroScreen can save operators up to 50% in power use and has only 10% of the footprint of multi-stage pre-treatment.
The Hydro MicroScreen can help operators meet discharge regulations and minimise discharge / disposal costs by capturing residual material for sale, repurposing or re-use, rather than flushing it into the sewer system.
Energy costs are one of the biggest expenses in industrial wastewater treatment with plants often using multiple step pre-treatment process to reduce TSS, BOD and FOG before discharge. These processes are typically energy hungry and may require significant plant space. Hydro MicroScreen provides energy savings of up to 50% compared to conventional primary clarification technologies.
"The Hydro MicroScreen is already well proven around the world. At a tannery facility in the US, the Hydro MicroScreen has halved haulage and disposal costs by reducing the total solids volume and water content of waste material which needed to be transported to a specialist waste processing facility. It's easy to see that comparable savings are possible for many other industrial applications" says Phil Collins, Hydro International, Sales Director Europe.
Hydro International will be operating a Hydro MicroScreen at their Ely site in July to demonstrate its screening capability. If you are interested in attending contact Hydro International on 01275 878371 or via enquiries@hydro-int.com, or register your interest online.
RELATED ARTICLES
No related articles listed
OTHER ARTICLES IN THIS SECTION