Home
>
Using Apprenticeship Levy funds for up-skilling
Using Apprenticeship Levy funds for up-skilling
19 July 2017
The Apprenticeship Levy is one of the most significant changes to the training and development of engineers and manufacturing talent in recent memory.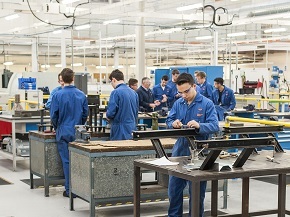 Many companies are understandably concerned about getting the most out of their Levy funds. Fortunately, the rules of Levy allow companies to up-skill their existing workforce through management apprenticeships.
Given the skills shortage in UK manufacturing, this is a great opportunity for companies to grow their own leaders and fill in gaps in their talent pipeline. Here are two examples of training programmes that use Levy funds for management apprenticeships:
Management development apprenticeship level 3
This programme is for those who are responsible for managing and developing team members or managing projects, planning and monitoring workload and resources. This includes professional team leaders, first line managers and supervisors from any sector.
Management development apprenticeship level 5
This programme is for those who are responsible for delivering the organisation's departmental strategic objectives, including tactical management of teams, planning and execution of projects and policy. This applies to professionals and managers who are at the start of their leadership and management journey or those already in a role but wish to develop their practical experience and theoretical management skills.
The only requirements for employees to take part in these Levy-funded programmes are:
Be in full-time employment for at least 30 hours a week.
Be an employee (have a contract of employment for the duration of the apprenticeship) on the first day of their apprenticeship, and be paid at least a wage consistent with the law for both the time they are in work and in off-the-job learning.
Be a citizen of a country within the European Economic Area (EEA) or have the right of abode in the UK, and have been ordinarily resident in the EEA for at least the previous three years on the first day of learning. Have the right to work in England.
Not be enrolled on another apprenticeship at the same time.
Maths and English Grade A*-C or equivalent.
Be able to complete the apprenticeship in contracted working hours.
Be in a new job role (nine months or less) or in an existing job role where significant new knowledge and skills are needed (employer statement of justification needed).
To find out more about how to strategically use your Levy funds for apprenticeship training or up-skilling your workforce, get in touch with EEF here.
RELATED ARTICLES
No related articles listed
OTHER ARTICLES IN THIS SECTION