Home
>
Free seminar on compressed air and vacuum efficiency
Free seminar on compressed air and vacuum efficiency
14 September 2017
Compressed air and vacuum manufacturer Gardner Denver is inviting businesses in the Midlands to its free energy efficiency seminar which will focus on improving compressed air and vacuum efficiency. The event takes place at the Jaguar Visitor Centre in Castle Bromwich on Tuesday 10th October from 10am.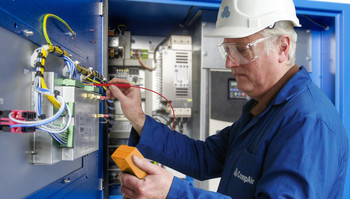 It will feature talks from a range of speakers, including Marion Beaver, technical officer at the British Compressed Air Society (BCAS), on reducing energy consumption from compressed air usage, and Will Todd, managing director at Carbon Architecture, on driving utility efficiency through data.
With compressed air accounting for 10% of total energy costs in industry, energy-intensive organisations will benefit from the issues raised and practical recommendations and advice offered throughout the day.
Tea and coffee will be available on arrival, with the seminar expected to finish at 3pm.
Keith Findlay, northern sales manager at Gardner Denver, which is sponsoring the event, said: "Efficient performance at a cost-effective price continues to be a key consideration for businesses, and any steps that can be taken to improve energy efficiency should be welcomed.
"Our energy seminar has been designed to be informative and helpful; we want organisations to leave with a clear action plan of how they can enhance their business by improving operational efficiencies, reducing energy costs and minimising the environmental impact of their compressed air systems.
"As well as talks from BCAS and Carbon Architecture, we will have speakers from Gardner Denver discussing the benefits of energy audits, highlighting the improved efficiencies these can help realise, as well as the latest compressed air technology to help businesses cut energy costs. A representative from ROBOX Energy will focus on the food and beverage and wastewater treatment markets, while CPA Engineered Solutions will look at solving the challenges faced by facilities in order to improve the effective use of air.
"We look forward to welcoming local businesses to the Jaguar Visitor Centre, demonstrating how they might reap the rewards of an effective compressed air energy strategy."
With only limited spaces available, please contact business development co-ordinator Chris Tuck at chris.tuck@gardnerdenver.com.
RELATED ARTICLES
No related articles listed
OTHER ARTICLES IN THIS SECTION