Katrin passes with Honours at University of Plymouth Students Union
02 October 2017
Since switching to washroom products from Metsa Tissue, the University of Plymouth Students' Union (UPSU), has saved money and reduced work for cleaners.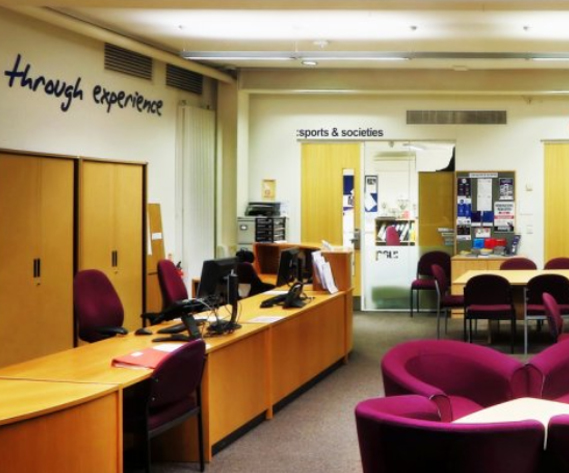 Pressures on a charity of this nature are considerable. Richard Hicks, facilities supervisor explains, "With 75 permanent staff and around 200 casual student staff, we do make a small profit, but our principal funding is an annual grant from the University, of about £1.7m, so maximising, and being accountable for this budget is key; facilities is obviously a significant spend from this pot".
There are about 30 toilets across the UPSU estate and they were using a single sheet centre feeding style device. Richard explains, "We found these devices were not really working for us. Once the roll is three quarters used, it dropped and got stuck; we were wasting the last quarter of the roll. This level of waste soon mounts up". Secondly, the devices do not look like traditional dispensers. Students had a tendency to push the paper back through the small, round, dispenser opening (either by mistake or for fun), meaning the next user has no access to paper. The net result was students trying to force the dispenser open – and actually pulling the dispensers off the wall. We were losing 3 dispensers per week because of this problem, and we knew we had to look for an alternative solution".
Richard asked a local distributor in to look at the situation, and they recommended discussing the requirements with Metsa Tissue. Richard explains, "They told us that Metsa's System products are a great solution in high traffic areas. In addition, they advised that had just introduced their new range of Katrin Inclusive dispensers, with a wide range of accessibility features, which are ideal for an educational environment".
The new Katrin Inclusive Dispenser range includes 10 dispenser types, all available in either black or white. Use of the dispensers is easy - paper is easy to remove, can be pulled out with one hand and large "push faces" for the soap dispensers are effortless to use. Contrasting colours make the dispenser openings easy to see and braille text where relevant, also helps the visually impaired. Dispensers that open upwards make it much easier for people of all heights to fill and simple graphical signage shows how they should be used and maintained. All of the dispensers are easy to disassemble and are made from durable ABS and Polycarbonate plastic, both of which are totally reusable.
UPSU installed white Katrin Inclusive System Toilet Dispensers, with Katrin Classic ECO System Toilet 800 sheet paper. Richard explains, "A full dispenser holds 2 rolls of 800 sheets each (1600 sheets of paper) – which lasts a good length of time, even during high usage periods. The clear sides of the dispenser mean that cleaning staff can see at a glance if a new roll is required, and each roll is used right to the end. So we have totally eliminated our waste problem, reduced the work load for our cleaners and we are making considerable savings on our paper".
The Katrin product is manufactured by Metsa Tissue, part of Metsa Group. Sustainability is something that the company takes very seriously. It leads the tissue industry in developing low-impact processes and practices. Recycled fibre accounts for 60% of the fibre used, and all primary fibre suppliers are chain-of-custody certified, ensuring sustainable forest management.
Mark Dewick, managing director for Metsa Tissue in the UK, explains: "This sustainable approach helps to explain the thinking behind the product recomendations for USPU". He says, "The Katrin Inclusive dispensers are completely recyclable and the Katrin Classic Eco System Toilet roll is made from 100% recycled fibre, but is an excellent quality – and feels very soft. It carries both the Nordic and the EU Ecolabel – so is environmentally friendly as well".
Richard also implemented new Katrin Inclusive hand towel dispensers, and a Blue Katrin Zig Zag hand towel. He says: "We were using a rough brown c-fold towel, and these have considerable opportunity for wastage as well. When you try to grab towels, there is nothing really to really take hold of. As a result, students take many more than they need, and often, some drop on the floor. In addition, people never open out the towel, to enable them to use the full surface area – so again, need more towels to dry their hands. The Katrin Blue Zig Zag towels are always self presenting; you pull one and you get one, which from a usage point of view is perfect. And because the sheet is already opened out, we get better value for the surface area, so we are also saving approximately 8% on our budget here as well."
The washrooms also have Katrin Inclusive soap dispensers. Richard adds: "A total Katrin Inclusive solution gave the washrooms a consistent, stylish feel, whilst overcoming a host of problems that we were experiencing. It was a really good fit". He concludes: "The users appreciate it, the washrooms add to the ambience of the University environment and UPSU is saving money and supporting its Corporate & Social Responsibility goals – Katrin was a real win/win for everyone".
OTHER ARTICLES IN THIS SECTION