CD, DVD & LP packaging
22 September 2017
The latest addition to Kite Packaging's portfolio offers sellers of CD's, DVD's and LP's a method of safely posting or storing their multi-media items.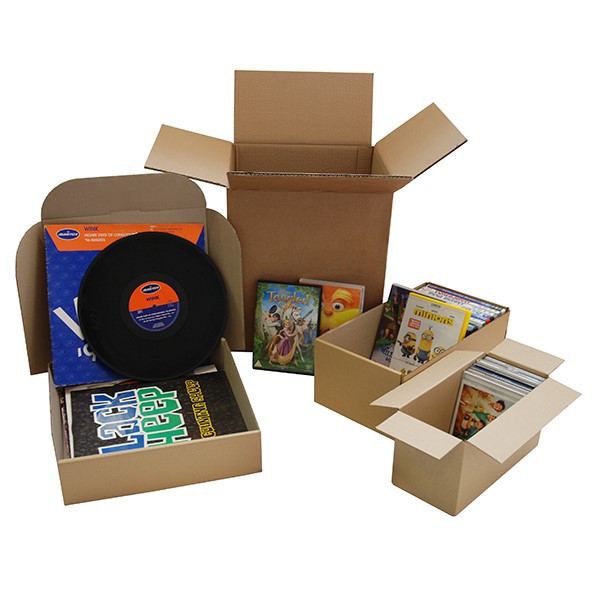 Perfect for shipping items, Kite's open and closed top inner trays for CD's each hold up to 25 CD's and teamed with the larger double wall outer box, customers can comfortably fit up to 8 inner trays inside an outer box. This allows up to 200 CD's to be shipped or held in storage.
Kite's DVD range provides the perfect solution to transport and store DVD's. Whether users require a ready to ship peel-and-seal postal box designed to mail out a maximum of 5 DVD's, closed or open top inner trays that comfortably fit up to 25 DVD's, Kites range has a solution for all. In addition, if the requirement is for media packaging to ship or store larger quantities, Kite's single wall outer boxes work perfectly when used with closed and open top DVD inner trays. The two single wall boxes are available for 100 DVD's or 150 DVD's.
For the safe transportation or storage of LP's, Kite's standard corrugated mailer and peel-and-seal corrugated mailers are easy-to-assemble and hold up to 15 LP's each, preventing LP's from being damaged and broken either during transit or in storage.
For larger quantities, Kite's easy to assemble postal box has been designed for instant shipment or storage. Simple to assemble it fits up to 25 LP's. In addition, Kites double wall LP boxes are the perfect solution for quantities of 50 and 100, these strong and sturdy, high-quality double wall boxes protect items during transit or whilst in storage.
OTHER ARTICLES IN THIS SECTION