Gentle finishing of thin work pieces
05 October 2017
A new 'gap rinsing' option on the new Turbotron centrifugal disk finishing machines from Walther Trowal means they are suitable for finishing extremely thin fine-blanked parts. The new machines are said to lower the investment expenditure and to offer high uptimes.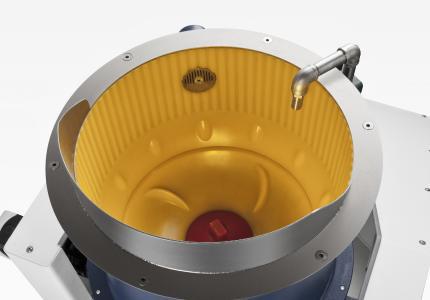 The new line of TT centrifugal disk finishing machines have spinner and wear ring completely made from polyurethane and a rinsing system for the gap between spinner and stationary work bowl. This system prevents thin parts getting caught in the gap and getting damaged. Walther Trowal says the new TT machines are a cost effective, highly wear resistant alternative to conventional mass finishing machines, especially for processing very thin work pieces.

The gap rinsing system uses the spinners and wear rings Walther Trowal has been employing in large quantities in its standard centrifugal disk machines. The company says this helps to reduce equipment expenditures because PU is less complicated to handle than, for example, ceramic materials. In addition, the gap size can be easily adjusted with the proven standard gap setting system. The pressure created by the rinsing system ensures that thin parts can no longer be drawn into the gap between spinner and wear ring.

The new disk machines operate with high water level in the work bowl. This helps prevent the work pieces from sticking to each other or clinging to the wall of the work bowl.

Christoph Cruse, general sales manager at Walther Trowal, sees significant benefits for customers: " Our new machines represent an economic, low-wear solution. Ceramic materials used to date are relatively brittle and can easily chip! This can cause costly damage to spinner and wear ring. Since we have worked with polyurethane for many years, we are very familiar with this material. To come to the heart of the matter: We have developed a smart, cost effective solution that works great for our customers."

Walther Trowal offers the 'gap rinsing' option across the range of Turbotron disk finishing machines, from simple stand-alone units with manual work piece loading and unloading to large, fully automatic systems with hydraulic loader, external vibratory screening machine and media return conveyor.
OTHER ARTICLES IN THIS SECTION