European operations expanded
06 October 2017
William Hughes, a UK-based supplier of custom-made springs, wire forms and assemblies, has expanded its European operations with the acquisition of Nosag Polska from the DEFTA Group.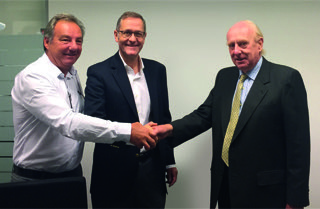 Based in Tychy, southern Poland, Nosag Polska is a major manufacturer of seat mats, wire frames and bent wire parts - predominantly for the automotive industry. Nosag has been established in Poland since 2005 and with over 150 employees, is a leading supplier to all the major car interior and car seat manufacturers.
"This acquisition is great news for our many customers in the European automotive market," said Max Hughes, MD, William Hughes. "There is much synergy between Nosag and William Hughes in terms of both our products and markets. By combining our significant manufacturing, technical and logistical resources we are confident there will be many benefits for our rapidly expanding automotive customer base."
"Everyone at Nosag is very excited about becoming part of the William Hughes Group," said Richard Thevenon, general manager, Nosag Polska. "William Hughes has extensive experience within our marketplace and provides access to increased manufacturing resources and capabilities. For our part, our strategic location close to the many automotive manufacturing facilities in Slovakia, Poland and Czech Republic will improve Group communications and logistics, helping to better meet the needs of our customers."
The Nosag Polska facility in Poland complements the existing William Hughes European factory in Plovdiv, Bulgaria. Established in 2004, William Hughes Bulgaria now has over 180 employees and occupies over 6000m2 of space. The success of the Bulgaria operation has been built on the easy access it has provided to European customers.
"We recognise the skills and expertise that exist at Nosag Polska and we fully intend to develop and expand these well established resources," continued Max Hughes. "This acquisition is an important milestone in William Hughes growth plans as we continue to develop our status as a high volume, high quality components supplier to the European automotive market."
OTHER ARTICLES IN THIS SECTION