Home
>
Manufacturer takes 11 Verlinde hoists
Manufacturer takes 11 Verlinde hoists
17 October 2017
The hoists will be used to back up the firm's seven overhead cranes and two semi-gantry cranes.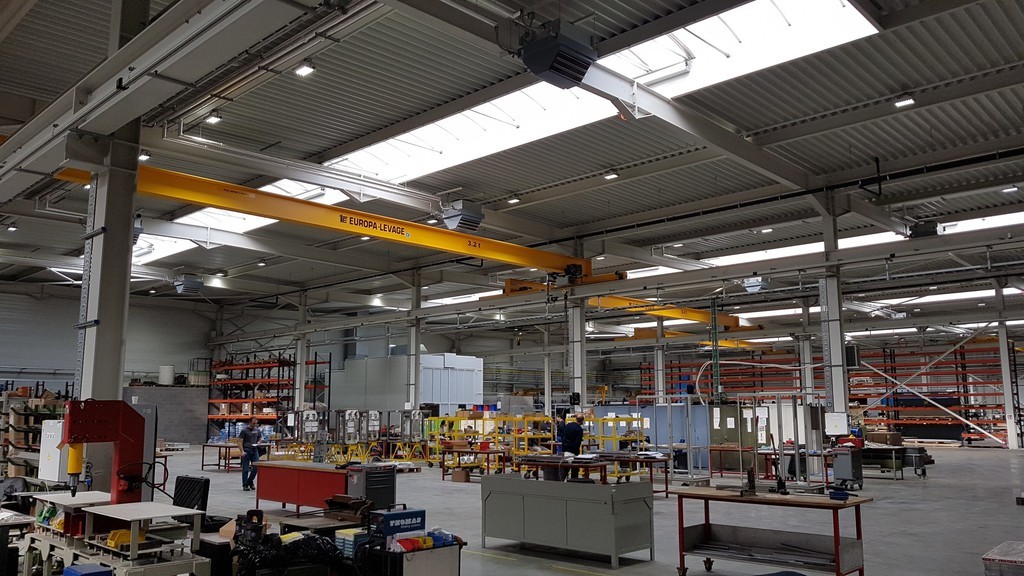 Inductotherm delivers between 20 and 30 metal induction heating installations annually in a 10,000 sq m plant. The facility in Belgium includes a main High bay, 100m long by 50m wide with a lifting hook clearance height of 9m.
At right angles to High Bay, the firm has five Low Bays 50m long by 20m wide with a lifting hook clearance height of 6m. For lifting / handling operations in these six bays it has installed seven overhead cranes, two semi-gantry cranes and eleven Verlinde hoists.
The High Bay, for the assembly of parts and components made in the Low Bays, is equipped with a double girder box-type crane bearing two Verlinde hoists, one a 32 tonne Eurobloc type VT4 and the other a 3.2 tonne type VT1. These two hoists on the same overhead crane are used individually to move loads or together to turn parts over. It has also installed in the High Bay another overhead crane, a single box-type, fitted with a 3.2 tonne Verlinde Eurobloc VT1 for back-up handling operations.
The Low Bays have a lifting hook clearance height of 6m. The first four are equipped with single girder box type overhead cranes with a 3.2 tonne Verlinde Eurobloc VT1 hoist. In the fifth Low Bay, a double girder box type overhead crane equipped with a 12.5 tonne Eurobloc VT3 hoist and a 3.2 tonne VT1 hoist enable the handling of heavy items such as copper induction reels.
Lastly, at the extreme end of each of the first two Low Bays, a semi-gantry crane with a 3m lift height, is equipped with a 1 tonne hoist to handle small loads. These two gantry cranes travel on one side on the same roller path.
Inductotherm's factory manager Serge Houet says: "We handle and move heavy, cumbersome loads across significant horizontal and vertical distances, so safety and reliability of the cranes and hoists operated by the personnel are decisive aspects. It was important for us that the equipment of our new plant benefitted from the latest handling equipment technology. For instance, for all overhead crane and hoist travel we decided on frequency variation speed control electric motors that offer great flexibility, greater precision, are jolt-free, offer low load sway and smooth braking thus keeping not only brake pad maintenance to a minimum but also ensure low wear of mechanical drive components.
"For travel safety we added anti-collision systems to the limit switches and rubber stops in order to eliminate any shock between equipment units. Finally, all cranes and hoists are radio-controlled."
RELATED ARTICLES
No related articles listed
OTHER ARTICLES IN THIS SECTION