Upgrades and new options for lathes
24 October 2017
XYZ Machine Tools has announced new options and upgrades for its SLX ProTURN lathes.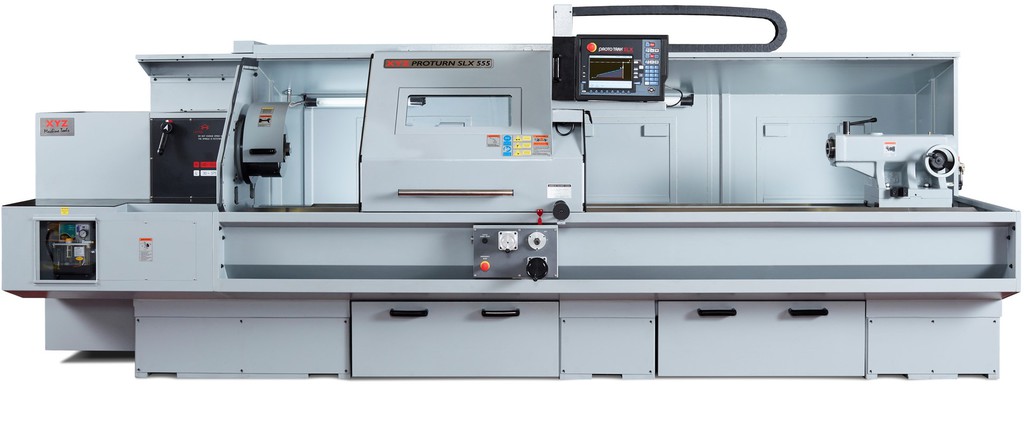 The largest machine in the range, the 3m bed SLX 555 with its 560mm swing over the bed, 104mm spindle bore and 3000mm between centres, now features a single door to access the working area. Replacing the double door system previously fitted, the new layout makes access to the entire bed length much easier for operators. Its design also means a reduction in weight, reducing the effort needed to open and close the door.
As part of XYZ Machine Tools quality procedures, every SLX lathe is ball bar tested using the latest QC20 bluetooth ball bar system from Renishaw. This is part of the 168h (24/7) testing procedure undertaken by XYZ on its machine tools prior to delivery to customers. If a fault is identified during this period, it is rectified and the test starts again from scratch.
The SLX range also has a number of productivity boosting options available. These include a four or eight position auto-indexing tool post; these replace the standard quick change system on all of the SLX ProTURN lathes. The eight position option features a cycloidal, zero backlash, drive system with absolute position encoder for fast and accurate tool changes, with the turret locked in position by a Hirth coupling to provide a solid connection under heavy-duty machining.
The units have been designed with safety in mind; the clamp cylinder, with its 1275 lbs of clamping force and belt drive system, ensure that if an accidental tool crash occurs, the unit will not be damaged.
For those carrying out larger diameter drilling work, the SLX range can be fitted with an optional drilling attachment that sits on the machine crosslide. XYZ Machine Tools says that by drilling directly from the cross slide rather than the tool post, users can maximise the potential of modern drilling tools, at the same time reducing stress on the toolpost and freeing up positions for turning and boring tools.
OTHER ARTICLES IN THIS SECTION