High-resolution pyrometers with rugged remote sensor head
16 November 2017
Fluke Process Instruments has expanded its Endurance pyrometer series, adding models with a remote sensing head that tolerates ambient temperatures to 315°C.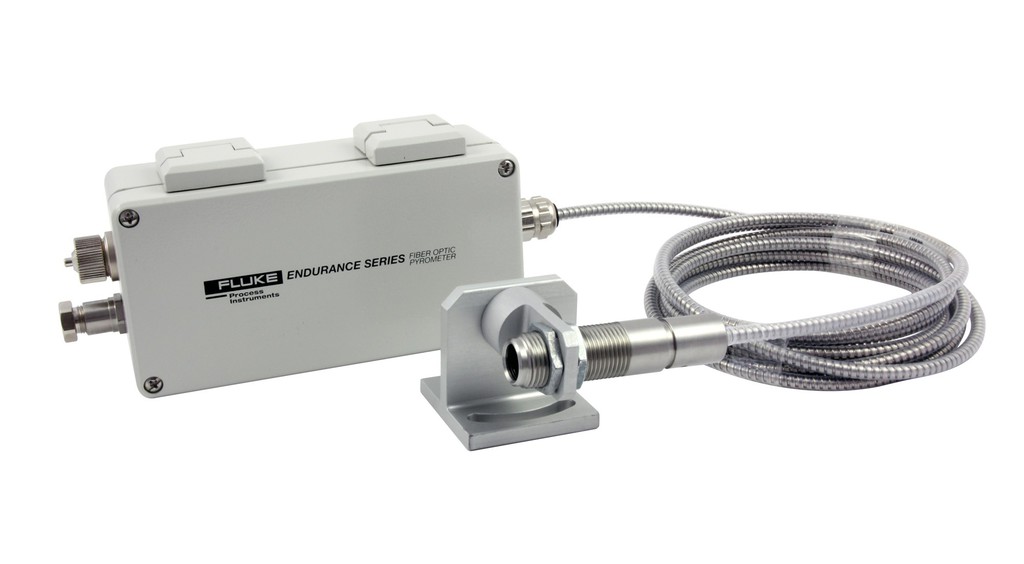 This design is suitable for applications with tight space constraints and for mounting near a heat source and in harsh environments.
The sensing heads offer improved immunity to electromagnetic interference. They are connected to a rugged IP65 electronics box via fiber-optic cable over a distance of up to 22m.
Various medium and high-temperature models cover a 250 to 3200°C measurement range. Monochrome and ratio pyrometer version are available with a 1 or 1.6µm spectral response. The ratio infrared thermometers enable accurate measurements of partially obscured objects, in dirty or steam-filled atmospheres, and of small or moving objects that do not completely take up the measurement spot, notably wires, rods, or streams of molten glass or metal.
Major application fields include primary and secondary metals manufacturing, primary glass manufacturing, and laser welding. Featuring a 0.1°C measurement resolution, the Endurance pyrometers fulfil the requirements of the semiconductor industry. Various lens options are available for different mounting distances.
The sensors operate with either Power over Ethernet (PoE) or 24 VDC power supply. They feature isolated analog I/Os as well as LAN/Ethernet, Profinet, and RS-485 interfaces. The PC-based Endurance setup and monitoring software simplifies configuration and deployment. A built-in web server enables archiving of historical data for traceability, process troubleshooting, and remote viewing. Endurance series pyrometers are offered with a four-year warranty.
OTHER ARTICLES IN THIS SECTION