Electrician's case
05 December 2017
Wiha is launching its second generation Electrician's Competence XXL case. Tested and approved since 2015, the case is now offered with contents precisely tailored to an electrician's needs.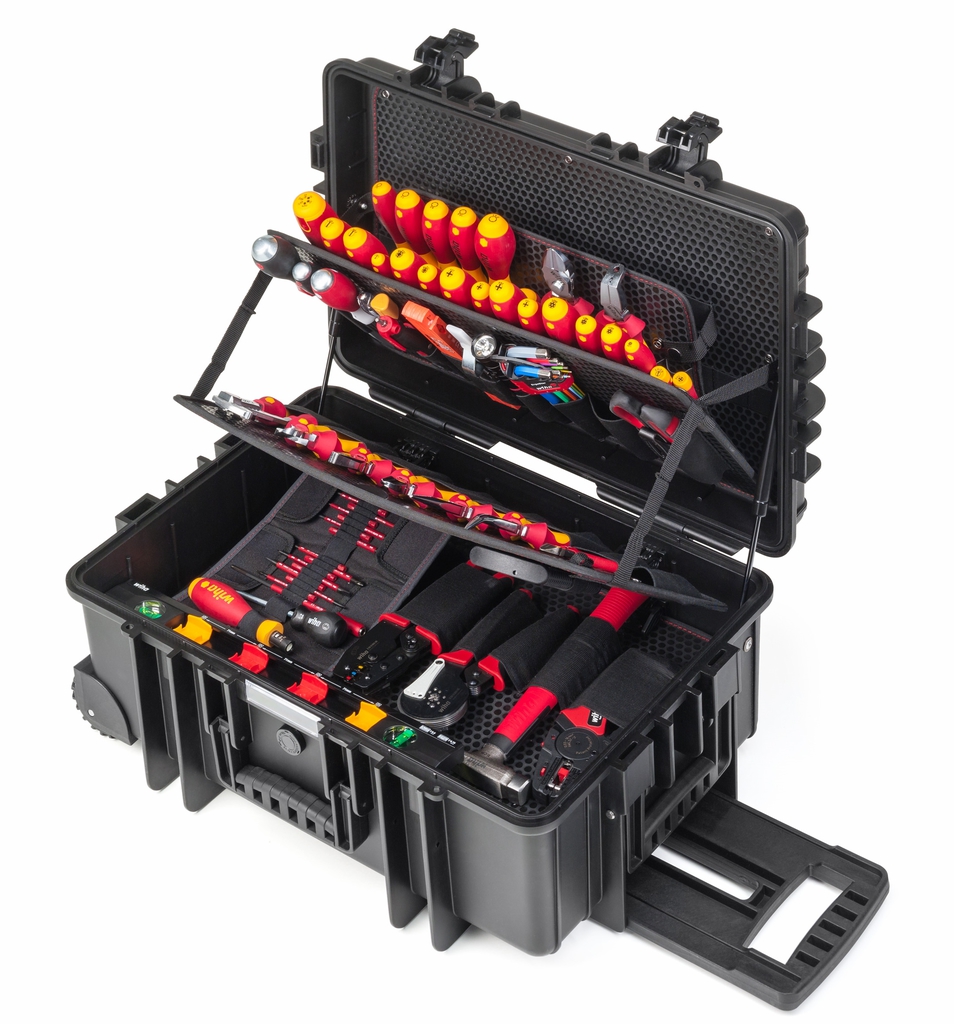 Combining safety with functionality and an ergonomic design, the Wiha case trolley comprises 115 item, including a new Wiha torch, dowel racket and other tools introduced to the market as part of the case relaunch.
Ronny Lindskog, director of sales and marketing at Wiha, explains: "We have replaced a few products from the first case generation with newly-developed items precisely tailored to the needs of the electricians' trade. We further enhanced the new selection until we were fully convinced that we had put together an ideal package for users in this segment."
Established Wiha classics remain part of the equipment set. These include innovations such as the all-round, 3-in-1 TriCut installation pliers, and VDE screwdriver and torque solutions from the Wiha slim family, which offer easy, protected access to low-lying screws. The same goes for the LiftUp electric magazine bit holder. Its new upgrade version includes an even more specific selection of six VDE slim bits, which are ready for withdrawal at the press of a button.
The newest items taking their place in the case include:
• A 10cm Stubby VDE screwdriver bit holder with slim bits which boosts safety in confined spaces.
• Automatic stripping pliers that can be used for a wide range of cables between 0.03 and 16mm². Cutters can be quickly exchanged thanks to replacement blades, instantly provided in the handle when needed. The user's health is also protected thanks to the supplied damper, which reduces recoil when skinning large cable gauges.
• Automatic crimping pliers make crimping wire-end sleeves easy as they combine two crimping pliers in one to handle cable gauges between 0.08 and 16mm². A feed mechanism for wire-end sleeves prevents the plastic cover from being crimped along with the wires. Especially small wire-end sleeves no longer get caught or twisted thanks to the hexagonal crimping.
Wiha now offers its new dowel racket as an alternative solution to conventional power drills for inserting dowels into soft construction materials. A simple strike of a hammer replaces the use of much heavier power tools, which generally produce much more noise and dust. The dowel racket protects users from sparkovers thanks to galvanic isolation in the solid steel cap. New problem solvers in the case also truly impress:
Optimised weight distribution on the Wiha electrician's hammer is said to bring noticeably improved balance and effective handling. Thanks to the flat surface on the hammer handle, cables and dowels are positioned effectively without causing any damage. The flat claws ensure that nails and nail clamps can be easily removed.
The new electrician's spirit level provides variable distance marks for up to four flush boxes. Both bubbles can be seen easily, even from a sharp angle. The specially positioned linear measurement scales ensure the user can make measurements comfortably from a wide variety of work positions.
The Longlife 2m electrician's folding ruler allows users to make distance marks for up to three flush boxes. The integrated cable retractor for cables between 3-7mm also helps with such tasks. It glows when under a UV light, so it can be found effortlessly in the dark.
OTHER ARTICLES IN THIS SECTION