Industrial Energy Efficiency Accelerator open for applications
28 November 2017
The application process for the UK government's Department of Business, Energy and Industry (BEIS) Industrial Energy Efficiency Accelerator (IEEA) is a £9.2 million programme, managed by the Carbon Trust, that will support industrial companies that want to implement innovative new energy efficiency technologies to boost their competitiveness and improve their operational efficiency.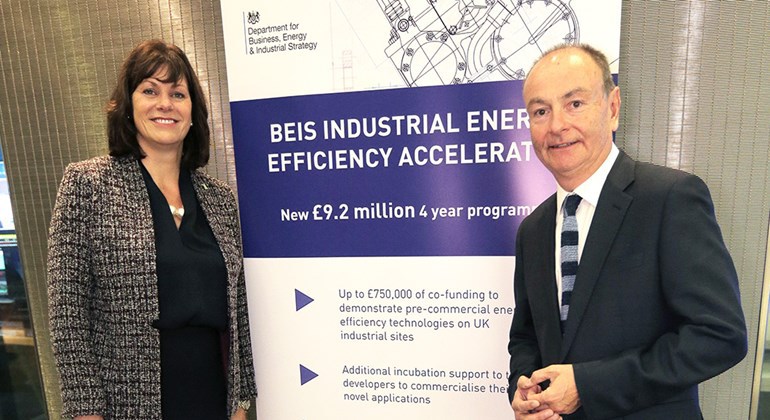 The IEEA has been designed to address the financial and implementation barriers that can hinder large-scale technology demonstrations. Co-funding of between £150,000 and £750,000 is available for successful applicants to support the large-scale, onsite demonstrations of pre-commercial efficiency technologies on UK industrial sites.
Industrial companies and technology innovators need to jointly apply before the end of September 2018. Early applications are encouraged as funding will be awarded to the most promising applications as they are submitted. Therefore there is a possibility that all available funding is allocated before September 2018.
Launched earlier this year by BEIS, the IEEA will provide a combination of co-funding and expert implementation guidance. Additional incubation support will also be provided to the technology developers involved in demonstration projects to help them commercialise their solutions more widely.
The industrial sector accounts for 17% of the UK's total final energy consumption, as well as accounting for over a fifth of national carbon emissions. Today up to 40% of energy can be lost during manufacturing processes due to inefficiency in equipment, mechanical limitations and heat loss. Optimising energy use can therefore deliver important cost savings and competitiveness benefits for industry, at the same time as significantly reducing carbon emissions.
A panel consisting of representatives from BEIS, the Carbon Trust and Jacobs will carry out application reviews following a series of bi-monthly interim competition deadlines.
Applications are welcomed from companies operating in mid and high energy-intensive sectors. Technologies need to be ready for demonstration in a simulated or fully operational environment, or at a stage where final qualification and validation is required.
Projects will typically run for 12 to 18 months, at the end of which a dissemination phase will be undertaken to help widely share the experience and learnings gained through from each of the pilot demonstrations.
OTHER ARTICLES IN THIS SECTION