Short term monitoring for a cement tube mill
11 December 2017
During a visual inspection of the trunnion drive end bearing on Tube Mill No.1, engineers at Sunstate Cement in Australia discovered that the bearing was in a reasonable condition despite 28 years of service. It was decided to extend the service life by rotating the outer ring by 180°. Schaeffler technicians were then asked to provide a condition monitoring solution for the trunnion end bearing.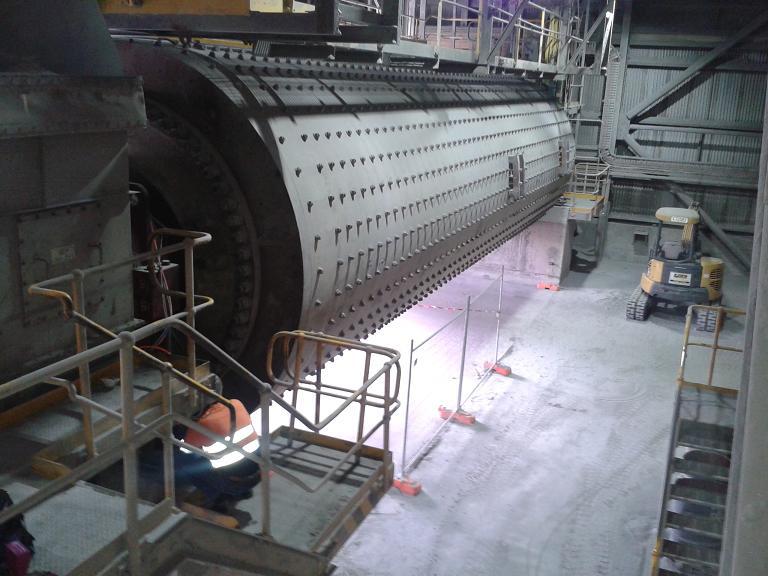 Schaeffler recommended a temporary solution that comprised two FAG SmartCheck online condition monitoring systems (one axial and one radial), as well as a remote wireless network system for communication, monitoring and diagnostics from Schaeffler's Online Centre in Sydney, Australia.
The two FAG SmartCheck units were configured to suit slow speed bearings and set up only to collect vibration data when the tube mill was operating, which ensured that only relevant data was obtained. This temporary solution proposed by Schaeffler was accepted by the customer for a period of one month. After this time, a machine condition report was provided by Schaeffler technicians outlining the trunnion end bearing was fit for purpose.
By implementing the temporary FAG SmartCheck monitoring solution, Schaeffler was able to supply a prompt, cost effective monitoring system to assess the condition of the trunnion drive end bearing for continued service. The FAG SmartCheck provided high quality vibration data at slow speeds. Subsequently, Schaeffler technicians analysed the data and made recommendations to the customer for continuation of service for the trunnion bearing. The benefit and value to Sunstate Cement was being given assurance that the bearing was suitable for further operation, thereby avoiding the significantly higher costs of replacing the bearing.
Customer Benefit
Cost of a new trunnion end bearing: €105,000
Average downtime cost per hour: €1500 to €3500
Average downtime for a bearing replacement: 3 to 5 days (min. 72 hours)
Cost savings for every bearing replacement avoided: €200,000
In the same plant, two of the three tube mills were already equipped with FAG ProCheck and a remote monitoring service. The customer has since equipped its third mill with a permanent FAG ProCheck monitoring system to effectively continue monitoring the remaining life of its bearing using Schaeffler's monitoring services. FAG ProCheck can be used to monitor bearing vibration behaviour and other process parameters such as bearing temperature and speed.
Once set up, FAG ProCheck can operate automatically without further intervention from the user, to measure, record, analyse and issue alerts on vibration data from rotating plant. By continuously monitoring a machine or piece of rotating equipment, FAG ProCheck can detect changes in their behaviour early and alert maintenance personnel to a potential problem before it actually occurs. Maintenance teams can therefore improve their planning and scheduling and production downtime is significantly reduced.
The FAG ProCheck system can be easily expanded and customised through an expansion slot system and digital filter algorithms. The unit is therefore easy to integrate into a company's existing production data management system, statistical process control (SPC) system or PLC network.
OTHER ARTICLES IN THIS SECTION