Magnetic workholding solutions
22 February 2018
Available from Co. Dublin- and Tamworth-based workholding specialist, Leader Chuck Systems, the Walmag range of permanent magnet, electromagnet and electropermanent systems for machining applications such as grinding, turning, drilling and milling, as well as wire and die sink EDM machining has been expanded and enhanced.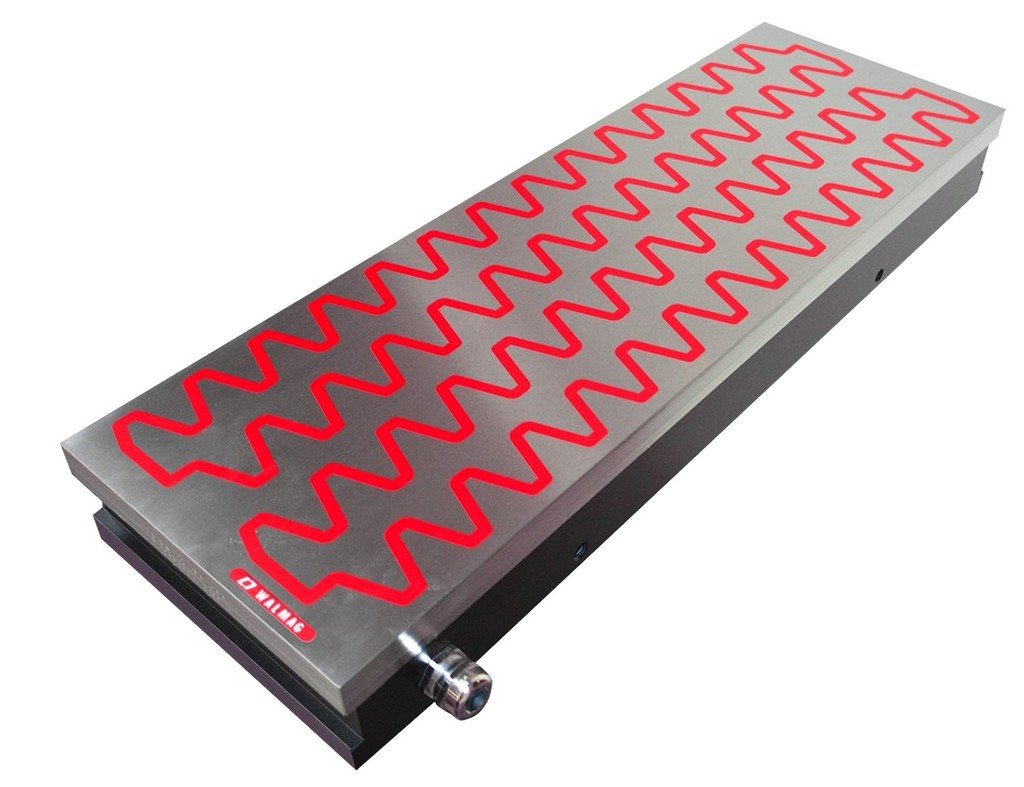 "Since we have been offering the high-performance range of magnetised chucks from Walmag we have seen a growing interest from a number of industry sectors, especially off-highway 'yellow goods' manufacturers and material handling systems specialists," explains Mark Jones, MD.
An electromagnetic permanent magnet, the Walmag Mastermill offers a flexible solution for a variety of workholding applications and a holding force of 170N/cm2. The top face is produced from a homogenous single piece of steel so there is no chance of swarf or coolant ingress into the electronics of the chuck. Designed with a recess so the chuck can be clamped down onto the table of the machine tool, the chuck can also be drilled through at designated points to allow it to be bolted directly to the worktable or to a pallet changing system with M12 bolts. Pole extensions can be placed on the surface for five-sided machining operations using simultaneous 5-axis or 3+2 positional milling techniques.
The company's Neomill Compact is a permanent magnetic chuck for milling operations. Ranging from 250 x 150 x 50mm to 600 x 300 x 60mm (L x W x H) it features the strongest permanent magnetic field in the range with a holding force of 160N/cm2. Although very rigid, remaining flat and stable under heavy machining loads, the Neomill Compact is designed to be light to handle and lower in construction to minimise the impact on the machine's Z-axis travel. Again, the top face is a single piece of steel that is water-proof, and it can be pocketed by machining. Up to 10mm of top face can be machined so raw material location recesses can be created and any accidental damage can be removed to revive the plate, with a visible indicator to advise when the limit is being reached.
For turning applications the Neostar provides a magnetic solution and is available from 130 to 800mm diameter. A robust electro-permanent magnetic chuck that is circular in design, milled from a single piece the top plate has no lamellas and is fitted with radial poles using a double high energy Neodymium magnetic system. A 5 mm machinable top plate allows location recesses or spigots to be created or damage to be machined off. With a holding force of up to 140N/cm2 it is said to be ideal for turning and grinding; within the same set up users can carry out ID, OD and top face work. As with all Walmag solutions, it achieves fast clamping with no deformation of the workpiece.
Produced with an aluminium body the Alustar range is lighter, and also features a bespoke worm gear activation system. This allows the chuck to vary the clamping force, so users can set up and true the workpiece using 10 to 20% of the holding force before applying full clamping power when the part is set correctly. These chucks are available in diameters from 200 to 600mm.
ELMag and ELMag-X were launched at the recent EMO exhibition in Hanover, and are designed for surface grinding small to medium and medium to large components respectively. These high performance electromagnetic chucks feature embedded coils with an ultra-hard epoxy resin insulator to provide an even distribution of the magnetic field across the complete surface of the chuck. This performance does not deteriorate over time and the chuck will always function correctly over their life span.
Mark Jones says: "Unlike pressure-based holding methods magnetic holding introduces zero stress into the part so there is little chance of any deformation. Walmag products are developed for the long-term and they just keep performing, backed by a two-year warranty.
"These magnetic systems are extremely cost-effective compared not only to the competitors, but with other methods of workholding. Previously part of the Walker Magnetics Group, Walmag has an established reputation for developing and manufacturing high performance workholding solutions using various magnetic technologies. With a depth of application knowledge built up over many years Walmag staff can provide information and offer manufacturing industry focused advice on aspects of workholding using magnetic force."
OTHER ARTICLES IN THIS SECTION