British pottery maker optimises compressed air systems
25 January 2018
A variable speed air compressed air system from BOGE is saving money and energy at pottery manufacturer Emma Bridgewater's factory in Stoke-on-Trent.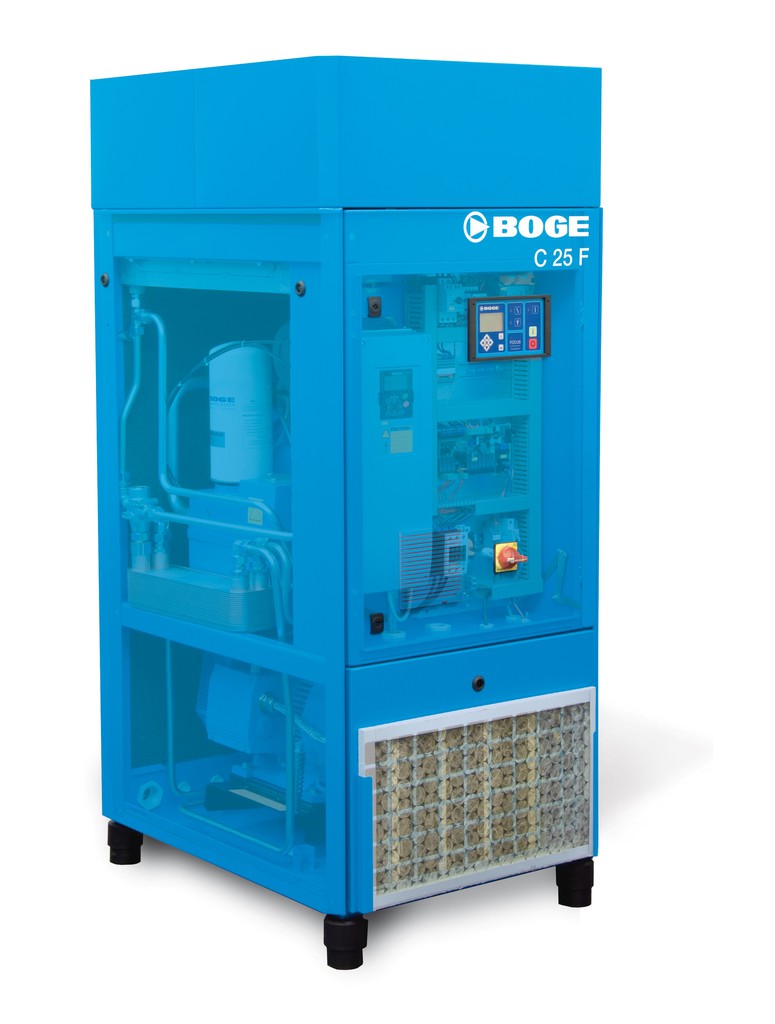 The BOGE C25F frequency-controlled compressor and standalone refrigerant compressed air dryer with associated filtration are also helping to cut maintenance requirements and future-proofing the factory, which produces 1.3 million pieces of hand-decorated pottery each year.
Midlands-based BOGE Platinum Distributor Partner Aroplus (UK), supplied and installed the BOGE compressed air system. Sales manager, John Nash, explains: "Initially, we had an enquiry to go in and look at the system and put forward a proposal that would meet Emma Bridgewater's current needs plus the demands of future expansion. At the same time, the company was keen to examine a more efficient, energy-saving solution."
Over a two-week period Aroplus (UK) began by logging data from Emma Bridgewater's two compressors – which had been in place for more than 10 years and which were relatively inefficient fixed-speed machines.
Nash explains: "We installed an electronic data logger into each of the two ageing compressors and fitted a pressure transducer into the compressed air line to monitor the system pressure. The data loggers recorded the on-load/off-load of the compressors (when they are producing air and when they are not), with the pressure transducer indicating system pressure variations."
As a result of the data logging exercise, Aroplus (UK) recommended a BOGE C25F variable-speed air compressor, plus a separate BOGE DS50 refrigerant compressed air dryer complete with associated BOGE filtration.
The frequency-controlled CF screw compressor series automatically adjust to the air demand while also precisely controlling the pressure. The airend operates at the speed needed to generate only as much compressed air as is required. Since the output adjusts automatically in the event of a change in pressure, it reduces wear and tear (and therefore the need for maintenance) and boosts energy efficiency.
The BOGE DS50 dryer cools compressed air to just above freezing point a 3° dew point causing water and oil aerosols contained in the air to condense, which is then automatically drained.
All DS series dryers are simple to install and are supplied with an automatic drain to remove condensate. They have an extremely low pressure differential to optimise the generation pressure of the upstream compressor.
A separate refrigerant dryer and filtration package was specified for Emma Bridgewater because the company wanted to keep its old compressors in-situ as a backup during maintenance of the new compressor. Nash says: "Instead of supplying the refrigerant dryer built into the compressor, the separate dryer and filtration package meets the Emma Bridgewater team's requirement for capacity to handle their existing compressors and the new compressor at reduced floor space."
Aroplus (UK) also specified a BOGE Air Saver valve. This is a programmable, electrically-operated valve which can be co-ordinated with the shift plan and stops machines from running when they are not required, thus saving even more energy and reducing maintenance costs.
A critical challenge for Aroplus (UK) was to avoid disruption to production at the busy Emma Bridgewater plant. Nash continues: "They have a lot of pneumatically operated diaphragm pumps in their system to pump clay slip around the factory. It is a continuous process and, if it stops, the clay goes hard and becomes unworkable.
"Because of the way the system was originally fitted over a decade ago, and because they run virtually 24/7, we had to install the new machine and modify the plant without losing production time, or causing a disturbance.
"To achieve this, we used our specially-designed service vehicle that allows us to supply customers with an independent, clean, dry compressed air supply while their machines are being serviced or a new machine is being installed. So we connected our vehicle to Emma Bridgewater's compressed air system, isolated their plant both pneumatically and electrically so it is safe to work on, and then installed the BOGE compressed air system."
OTHER ARTICLES IN THIS SECTION