Home
>
New guide explains how to achieve a healthy measurement system
New guide explains how to achieve a healthy measurement system
14 February 2018
Top tips for accurate and reliable measurement revealed by new 'How to' guide.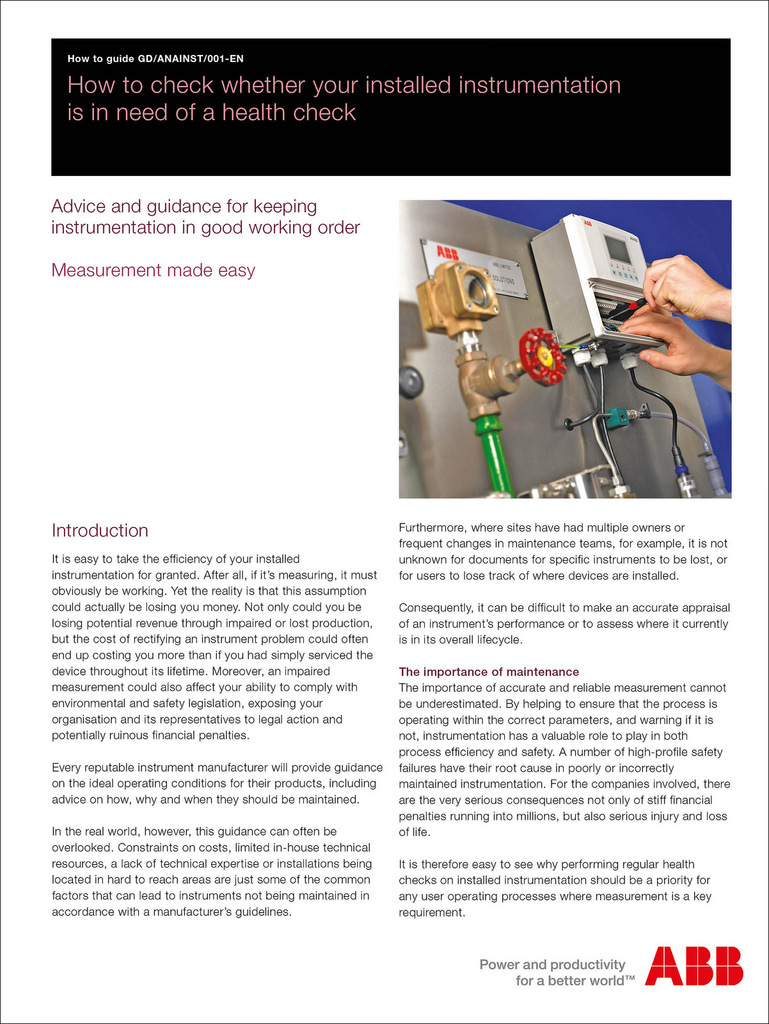 ABB has released a new guide explaining how to keep your instruments and analysers in top working condition. Titled 'How to check whether your installed instrumentation is in need of a health check', the guide covers the key factors to consider when assessing the operational performance of measurement equipment.
Available on request from enquiries.mp.uk@gb.abb.com, the guide covers a range of topics, including why, how and when instruments should be calibrated to ensure they are delivering accurate measurement. Many users mistakenly assume that the calibrated accuracy of an instrument will endure throughout its operational life, potentially resulting in incorrect measurements that could have a major impact on production and profitability. The section explains how to create an effective calibration regime and how to spot when an instrument may need recalibration.
The guide also provides advice on the new possibilities being unlocked by advances in instrument technology, particularly when it comes to the availability of diagnostic data. The latest generation of smart digital instruments, coupled with developments in communication technology such as WirelessHART, have helped to unlock new possibilities for gaining quick and easy access to an expanded range of instrument data.
Foremost amongst these is the ability to obtain a clearer picture of what is happening in a process. The ability to convey a greater range of data from a device at faster speeds over a digital network enables real or near real-time data to be obtained on process conditions, which can then be used to identify areas for possible improvement.
Other topics covered include guidance on inspecting instruments to check for deteriorating performance and tips for designing and implementing safety instrumented systems in critical safety applications.
"The scale and complexity of many industrial sites means that many companies may be unsure about the age, condition or even location of some of their installed instruments," says Wayne Deeks for ABB UK Measurement & Analytics Service. "Our new guide aims to provide an easy to use point of reference for anyone looking to improve the performance of their process through more effective measurement."
To obtain a copy of the guide, email enquiries.mp.uk@gb.abb.com quoting reference 'Health check guide'.
ABB's Measurement & Analytics business unit (www.abb.com/measurement) is among the world's leading manufacturers and suppliers of instrumentation and analysers. With thousands of experts around the world and high-performance technology, ABB's team is dedicated to making measurement easy for its customers.
Caption: ABB's new guide 'How to check whether your installed instrumentation is in need of a health check' is available on request from enquiries.mp.uk@gb.abb.com
Download: https://www.flickr.com/photos/armipc/28887059640/sizes/l
Contact: Mike Wager
Email: mike.wager@armitage-comms.co.uk
Tel: +44(0) 208 667 9660
RELATED ARTICLES
No related articles listed
OTHER ARTICLES IN THIS SECTION