Energy saving package
20 March 2018
Atlas Copco's VSD+ energy-saving technology is now available for the company's GA 75-110kW oil-injected, rotary screw compressors.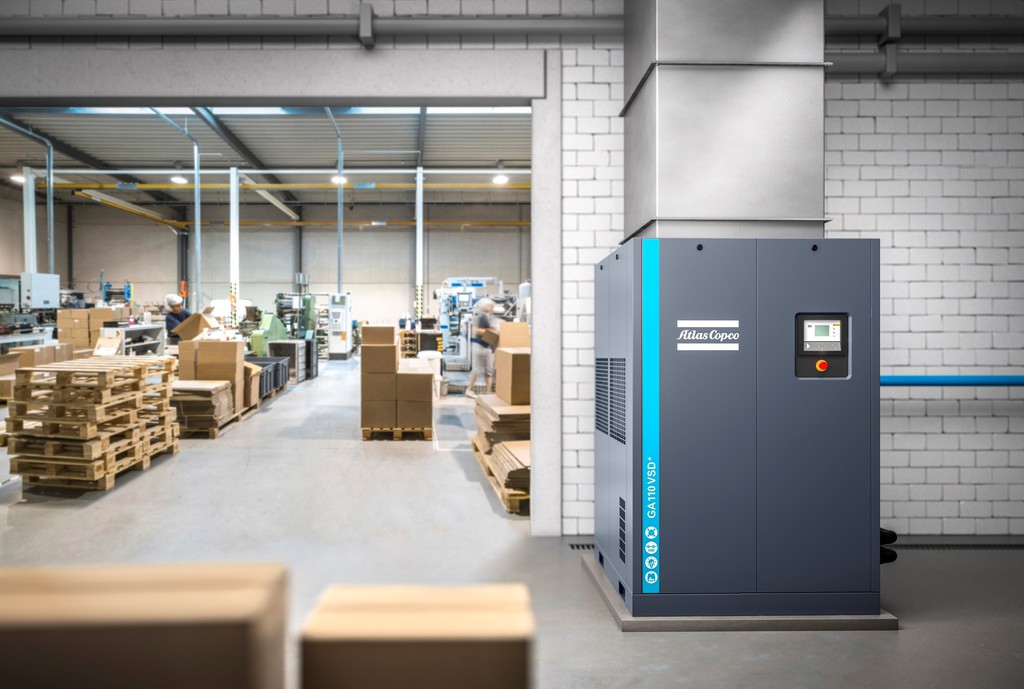 Stef Lievens, business line manager for Industrial Air at Atlas Copco Compressors UK, commented: "With the introduction of our GA75–110 VSD+ compressors, we're now able to provide companies, who consume a larger volume of compressed air, with a premium performance package that offers industry-leading free air delivery and outstanding energy efficiency.
"Our VSD+ concept was designed from the outset to deliver high quality compressed air at the lowest operating cost, and help customers to boost productivity in the most demanding applications. What's more, the floor space savings are enormous, giving end users the flexibility to add an extra compressor if they need more air in the future."
Previously only available for its smaller GA ranges, Atlas Copco has extended its VSD+ technology to cover compressors in three additional and larger power ratings: 75, 90 and 110kW. Each model is available in a pack version or as a full-feature unit with an integrated dryer. With the latter, this adds further floor-space savings, when compared to an installation with standalone dryers. All units can work between 4 and 13 bar set points.
Due to their special vertical build concept, the compressors are said to occupy the smallest footprint of any comparable compressor in their power range. For example, a new GA110VSD+ compressor occupies just 1.82m2 in the pack version and 2.83m2 in the full feature version , about 60% less space than the traditional GA110VSD models. This translates to 3.78m2 of freed floor space for a pack version and 4.57m2 of freed floor space for a full feature version. All maintenance parts are easily accessible, and the compact dimensions of the compressors allow for installation close to a wall or in tight corner spaces.
The ultra-compact compressors are said to offer exceptional energy savings. They feature Variable Speed Drive (VSD) technology that automatically adjusts the motor speed to match the compressed air supply to the air demand. When combined with the innovative design of the interior permanent magnet (iPM) motor, which is said to outperform the IE4 asynchronous motor in terms of efficiency, and a close-coupled drive train, the result is average energy savings of up to 50%. Added to this is a 6% increase in free air delivery, for improved efficiency and performance, plus a reduction in the compressors' total lifecycle costs in the region of 37%.
The principal innovation of the VSD+ design is its close-coupled drive train - the combination of a high efficiency motor and technically advanced, asymmetric compression element. The IP66 motor was designed in-house, with special attention to cooling requirements and efficiency. With no coupling or gears between the motor and screw element the compressors are exceptionally quiet, producing noise levels of 73dB(A) during operation. In addition, the drive train of the VSD+ compressor is situated within a closed circuit, in which both the motor and the element is cooled with oil; contributing further energy savings.
Specific Energy Requirement (SER) is the true measure of how much electrical power a compressor will use. The company says that in the latest GA VSD+ models the combination of an interior permanent magnet motor, an optimised transmission system and the performance of the integral Atlas Copco designed Neos inverter unit contribute to an overall 8% improvement in SER over that of any comparable compressor in its class.
OTHER ARTICLES IN THIS SECTION