Industrial cloths
13 March 2018
With the launch of its new WypAll ForceMax Industrial cloths, Kimberly-Clark Professional is challenging manufacturing facilities to apply the same rigorous standards used in hiring employees to selecting wiping solutions.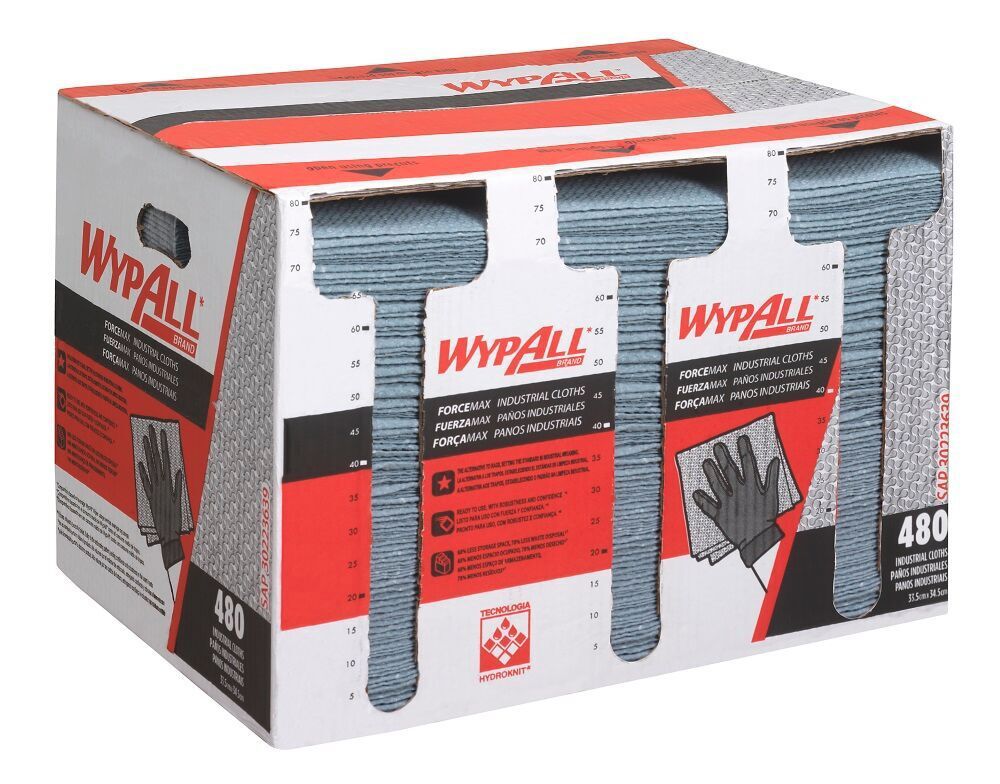 The 'Who would you hire?' https://youtu.be/sjG4GQZm9h0 programme demonstrates that selecting the right wiping solution in manufacturing environments is just like hiring an employee and therefore can positively impact KPI's, improve productivity, increase operational efficiencies and reduce waste.
Who would you hire? is introduced in 2018 for the launch of WypAll ForceMax and pitches the WypAll range of industrial cloths against traditional rags and laundered cloths used in plant and manufacturing settings.
"Just like hiring a new employee, selecting the right wiping solution can positively impact your KPIs," explains Simon Justice, Manufacturing Marketing Manager at Kimberly-Clark Professional*. "If your current wiping solution was interviewed, would it get the job?"
WypAll ForceMax, is the latest cloth from Kimberly-Clark Professional and is designed for removal of the toughest, most ingrained, dirt across all types of surfaces. WypAll ForceMax is said to absorb 40% more oil than rags and to absorb it five times faster. The company says that, compared with rags, WypAll ForceMax reduces disposal waste by up to 78% against average rag usage.
WypAll ForceMax is made with Kimberly-Clark Professional's Hydroknit technology which has been enhanced for this latest product development by blending recycled cotton fibres, cellulose and tear-resistant polypropylene. The result is a softer, more cloth-like feel and a more clean consistent cloth.
The embossed cloth provides bulk and extra scrubbing power for tough cleaning tasks without tearing or falling apart.
A key message of Who would you hire? is to encourage a transition from laundered cloths and rags to products specifically engineered for industrial cleaning tasks. With long-standing cleaning contracts, manufacturing facilities can often become oblivious to the poor standards of cleanliness of their laundered cloths. In contrast, WypAll Cloths deliver a clean consistent and high-quality experience every time.
While employees are sorting through inconsistent and often unusable piles of rags, they could already be on to the next job if they used the WypAll range of more durable, absorbent cloths. Switching to this new-generation of cloths offers less quality issues and dramatically reduces waste and disposal costs.
"Increasingly important in manufacturing is the need to improve their cleaning efficiency whilst cutting down on waste and costs," adds Simon Justice, manufacturing marketing manager at Kimberly-Clark Professional. "All WypAll cloths are designed to specifically help reduce waste, improve productivity, and increase the overall efficiency of operations."
http://www.kcprofessional.co.uk/hirewypall?cmpid=01042018_Industrial
OTHER ARTICLES IN THIS SECTION