LATEST NEWS
Launch of 2016 International Safety Awards
04 October 2015
The British Safety Council has launched its 2016 International Safety Awards which recognise businesses and organisations from around the world who have demonstrated a commitment to protecting their workers from the risk of being injured or made ill at work during 2015.
[Read More]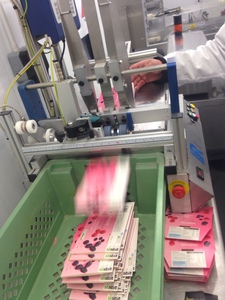 04 October 2015
The purchase of an offline RF2 coder from Rotech has transformed the sleeve coding operation at Holt-based Heaven Made Foods, eliminating inefficiencies and quality issues. With the Rotech system, which typically runs off 80-100 sleeves per minute, date coding is done in 10% of the time previously taken. [Read More]
SPONSORED CONTENT



For 60 years, Fronius has been carrying out research and development of battery chargers. Many years of experience guarantee maximum reliability in heavy-duty industrial use. [Read More]


More Sponsored Content
HOT TOPIC
Here, we feature some of the latest high-tech machines that can be found in today's machine shops, as well as some of the smaller, less complex tools and accessories that also have a part to play in ensuring an efficient production process.
[Read More]