ARTICLE
Safety switches
12 February 2019
EAO's latest emergency stop (E-Stop) and stop switches can be used in handheld and compact control applications where mechanical, electrical and environmental performance has to go hand-in-hand with restricted panel depth.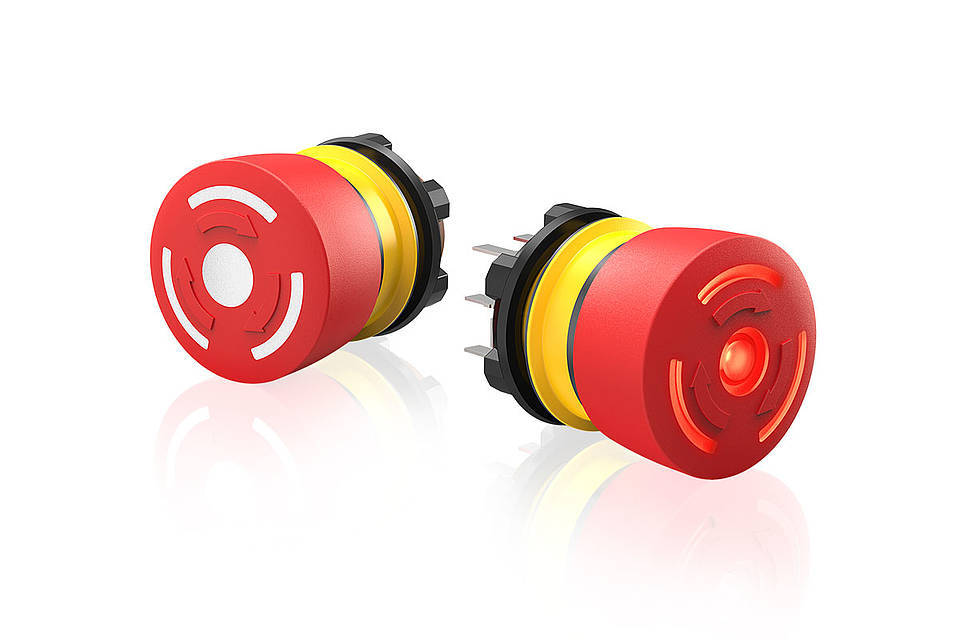 EAO's new Series 84 switches are just 13.5mm deep, including cable connections, enabling their use in many ergonomic applications including the latest process automation, robotics and material handling control equipment.
Installed directly on to a panel or in a handheld control unit, the switches are designed to protect humans from injury and machinery from damage. The actuation status of the switch is visible thanks to the green or black indicator ring that is apparent to the operator until the switch is actuated. New and improved LED illumination provides greater visibility and additional status and location guidance even in ambient light conditions.
The integrated red LED has reverse polarity protection and a constant current source that enables consistent brightness at operating voltages from 5 to 30 VDC.
EAO Series 84 E-Stops and stop switches have a robust mono-block construction and feature IP67 environmental protection against dust and water ingress. They are available with either solder or plug-in terminals or fitted with a 300mm flat ribbon cable.
The switching element features highly reliable, gold-plated silver contacts and is available with a double break contact with either a normally closed contact (NC), two normally closed contacts (NC), a normally closed contact (NC) and a normally open contact (NO). The normally closed contacts are force-operated according to EN IEC 60947-5-1 and can switch voltages and currents from 1 VAC / DC/ 1 mA (1W). MTBF is rated at more than 250,000 cycles of operation
An adapter is available to facilitate direct mounting of Series 84 switches onto a PCB. Further accessories such as mounting tools, protective shrouds and marking plates can be found in the EAO product catalogue.
OTHER ARTICLES IN THIS SECTION