Home
>
White paper for F&B manufacturers
ARTICLE
White paper for F&B manufacturers
31 May 2017
Food and beverage manufacturers can cut the total cost of ownership of compressors by up to 30%, according to a new white paper from BOGE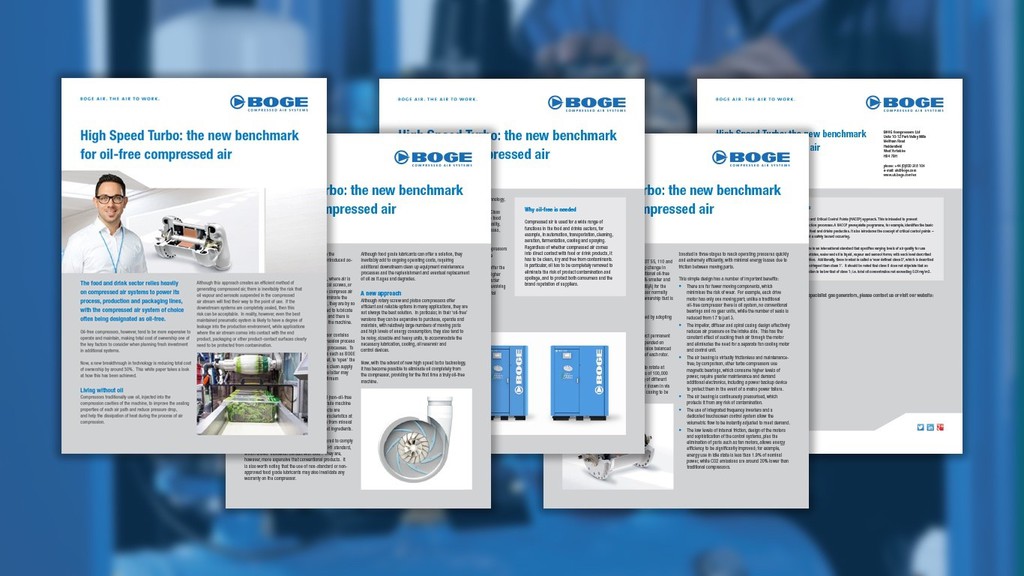 The white paper, which is available via free download from the BOGE website, explores in depth the new oil-free high speed turbo (HST) technology.
It explains: how to reduce energy consumption (resulting in lower energy costs); how to reduce maintenance and service costs; how to eliminate the risk of product contamination; and, how to ensure compliance with all relevant food grade compressed air standards.
This new HST technology is delivering benefits to the sector already. In addition to cutting energy costs and safeguarding product integrity throughout the manufacturing process, its innovative design is said to ensure low wear throughout operation and longer service intervals – reducing the time and costs associated with downtime for maintenance.
Mark Whitmore, general manager at BOGE, comments: "The new high speed turbo technology represents a huge breakthrough in oil-free compressed air, and this white paper details how food and beverage manufacturers can enhance their operations by using it."
RELATED ARTICLES
No related articles listed
OTHER ARTICLES IN THIS SECTION