ARTICLE
Management changes
20 May 2013
Craig Rollason has been appointed managing director at Knapp UK, while previous MD, David James, moves up to a new role of regional director for the UK, Sweden, Norway and Finland.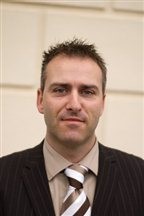 The move has been prompted by growth as the company has won business in the UK worth in excess of €100m over the last three fiscal years and now employs over 100 staff.

Knapp UK has also formed a board of directors to include David James, Craig Rollason, Ebb Kretschmer (customer service director) and Neil Garner (IS and projects director).
David James said: "As the new board of Knapp UK comprises our existing senior team, there will be a smooth continuation of our day-to-day business. I'm delighted to accept the invitation of our parent group, Knapp AG, to become regional director for the UK, Sweden, Norway and Finland.

"Building on the reputation of the Moving brand – which KNAPP acquired in 2008 – to strengthen our presence in Scandinavia is a fresh challenge that I'm really looking forward to. To complement our success in the design, implementation and support of large handling systems, our group strategy is to make this region a centre of excellence for smaller system projects that do not require control above PLC level. We will also, of course, continue to supply the Moving range of conveyor components to both end-users and system integrators."

OTHER ARTICLES IN THIS SECTION