ARTICLE
Shock absorber and impact monitoring
24 May 2019
Sentinel 1, ITT Enidine's first-generation on-board monitoring system, is said to be the first of its kind in the shock absorber industry.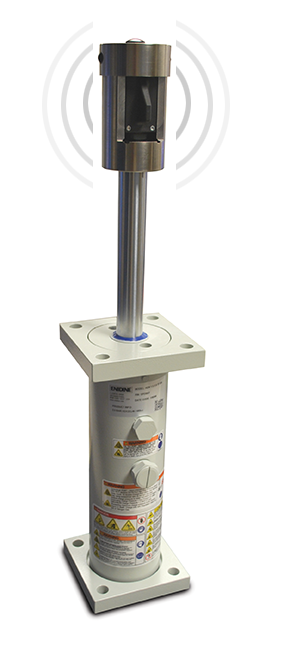 Farrokh Batliwala, senior vice president and president, connect and control technologies, ITT Inc, says: "By incorporating microelectronic solutions with Enidine's robust heavy-duty shock absorber technology, Sentinel 1 can be designed into any energy management solution for reliable performance monitoring.
"This new technology is manufactured to meet customers' most demanding material handling requirements, particularly within storage and retrieval applications."
For more than 50 years, ITT Enidine has continued to deliver upon a legacy of innovation, developing high-performance shock absorption and vibration isolation products. As an affordable entry level solution, Sentinel 1 features event impact signal trigger capabilities, protecting valuable equipment and ensuring seamless operation for various manufacturing applications, including automatic storage and retrieval systems, warehousing, overhead crane and amusement rides.
"Sentinel 1's technology incorporates continuous shock absorber and impact monitoring, energy harvesting and the ability to communicate across a facility to a PLC or other similar systems without wires or batteries," explains Greg Herman, director of sales and business development, ITT Enidine. "These features make Sentinel 1 easy to adapt into a previously installed shock absorber base. It's designed with affordability and longevity in mind, giving manufacturers and OEMs the power to incorporate next-generation IoT 4.0 technology into their designs without the burden of major equipment modification."
Additional features and benefits include:
Advanced Intelligence Theory: Capture, measure and transmit pressure, velocity and positional data to a PLC interface leveraging Sentinel patent-pending technology
Predictable Maintenance Technology: Allows customers to monitor and manage simple (wear indicators) to complex (sensor technologies)
Intelligent Technology Development:

Flexibility to provide beneficial information within various in-use applications
Monitor cycle count, hours of operation and internal pressure of shock absorbers
Control box can be integrated into OEM's systems
Remote notification to facilities manager of shock absorber information
Flexibility for products of various sizes to utilise technology
Multi-aisle reporting across the entire facility
OTHER ARTICLES IN THIS SECTION