ARTICLE
Drum handling equipment for ATEX area
21 May 2019
St Clare Engineering was recently asked by a customer to manufacture one of its Grab-O-Matic DH-1 single drum handlers for use within an ATEX zone.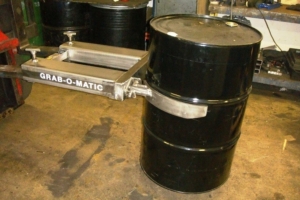 The company's range of fork attachment drum handling equipment is usually made from high quality British steel, with frames and pillars made from 6-12mm steel to ISO 9001:2015 standard and issued with test certificates to guarantee safe operation. However, to meet the client's ATEX requirement, St Clare Engineering had to use stainless steel in the manufacture of this particular DH-1.
Stainless steel eliminates the possibility of sparking when the drum grab hits the steel drum. It can be certified for use in ATEX Zones including 0, 1 or 2 and also gas and dust zones.
The DH-1 is suitable for steel drums only with pronounced rolling rims. Drums are automatically grabbed around the waist and released when set onto a surface and the truck reversed away.
St Clare Engineering has been manufacturing fork lift truck attachments under the Grab-O-Matic trade name for 60 years to handle drums and other containers of all shapes and sizes in environments ranging from the Arctic Circle to the Arabian Gulf.
The attachments are robust, manufactured entirely in the UK by precision engineers, and the company carries out a 100% inspection of all products before they leave the factory.
Most of the Grab-O-Matic drum handler range can also be manufactured from stainless steel, including the 1 and 2-DLR Rim Grippers, SC10 Drum Rotator and 1-DLR-BG Base Gripper.
OTHER ARTICLES IN THIS SECTION