Home
>
Variable speed drive range extended
ARTICLE
Variable speed drive range extended
12 June 2015
WEG has added a powerful and versatile frame size H variable speed drive to its CFW11 series to help optimise processes and boost productivity in high power level applications.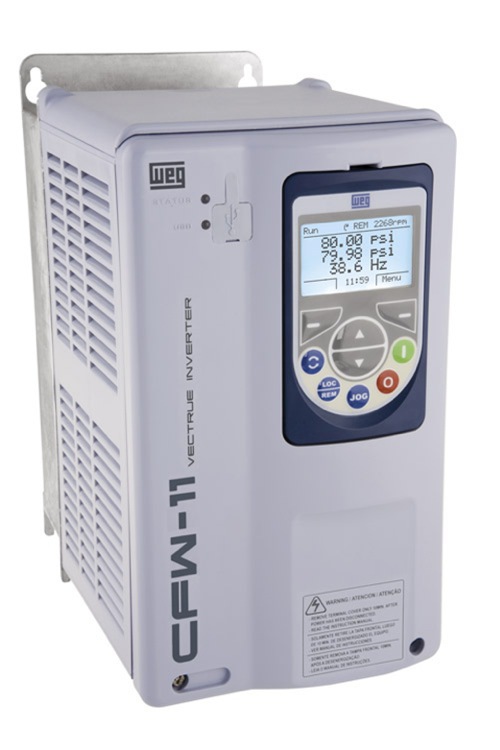 Available in two versions – covering the voltage range 380 to 690V and the power range 450 to 710kW in normal operation – the CFW11 in frame size H can control both squirrel-cage and permanent-magnet motors and is designed for normal and heavy load operation in a wide range of industrial and commercial applications.
Users can configure device parameters simply, either individually or in defined groups for specific applications, and the control panel features user-friendly navigation and control with programmable buttons. In addition, a guide helps users through programming, helping save installation and setup times.
Many plug-in extension modules are available for adapting the variable speed drives to users' needs and are automatically recognised by the device for convenient plug-and-play operation. The standard model also features an integrated micro-PLC, enabling users to program their own applications at any time using the included WLP software for relay logic.
CFW11 variable speed drives support both voltage vector (VVW) control and control using U/f control characteristics. WEG's Vectrue technology is said to provide outstanding response characteristics, precise torque and speed control, accurate positioning and high overload capacity. For use in safety-critical applications, WEG also integrates numerous protection functions with fault and alarm indications in the variable speed drives, as well as EN ISO 13849-1 safe shutdown – Safe Torque Off (STO) Category 3/ PL d – as an optional module.
The CFW11 enclosure is rated IP20 in the standard version, and an IP54 version is optionally available with through-hole PCB assembly for the power stage. The CFW11 series supports the Modbus RTU (RS232 and RS485), CANopen, DeviceNet, Profibus DP/DPV1, Profinet, Modbus TCP, Ethernet/IP, Ethercat and BACnet communication protocols as standard. An integrated USB port allows device parameter data to be backed up quickly and easily on a flash memory card or transferred to other devices.
Marek Lukaszczyk, European & Middle East marketing manager at WEG, comments: "Our CFW11 VSDs are highly versatile and easy to use and are designed to help users across a wide range of industrial and commercial applications operate motors more efficiently according to the latest energy efficiency regulations. The new frame size H version has been introduced to make the CFW11 even more versatile meeting the needs of high power level applications."
RELATED ARTICLES
No related articles listed
OTHER ARTICLES IN THIS SECTION