ARTICLE
Versatile system containers
09 October 2015
Denios system containers are versatile and can be adapted to store different hazardous materials as required. Each container is optimally designed to hold all standard types of containers and ensure full use is made of the available storage space, helping keep investment outlay per storage space to be kept to a minimum.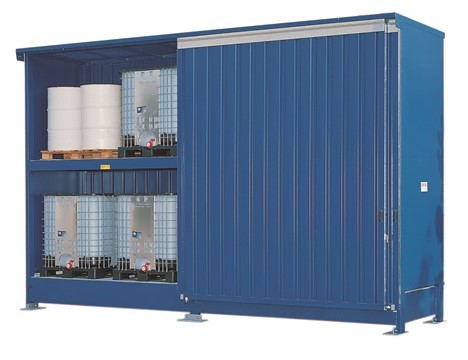 Containers are equipped according to the type of drums or containers they are intended to hold, and the lowest storage level is always fitted with an integral sump to ensure liquid leakages and spills are safely contained. Different materials can be stored in compliance with applicable storage regulations. If corrosive materials need to be stored, plastic or stainless steel sumps can be used as they offer optimum resistance to such substances.
In addition to useful standard features, the system-container range also includes many optional solutions: Up to three storage levels can be placed over each other and single-sided operation is possible from the front, or operation from two sides is possible from double installation depth. Sump liners can be used to store aggressive chemicals; doors can feature a wing or sliding design; special heat insulation panels ensure temperature-sensitive materials are protected against frost.
OTHER ARTICLES IN THIS SECTION