ARTICLE
Materials tester and software on show at Advanced Engineering
13 October 2019
Mecmesin is set to showcase its OmniTest materials tester and VectorPro MT materials testing software at Advanced Engineering 2019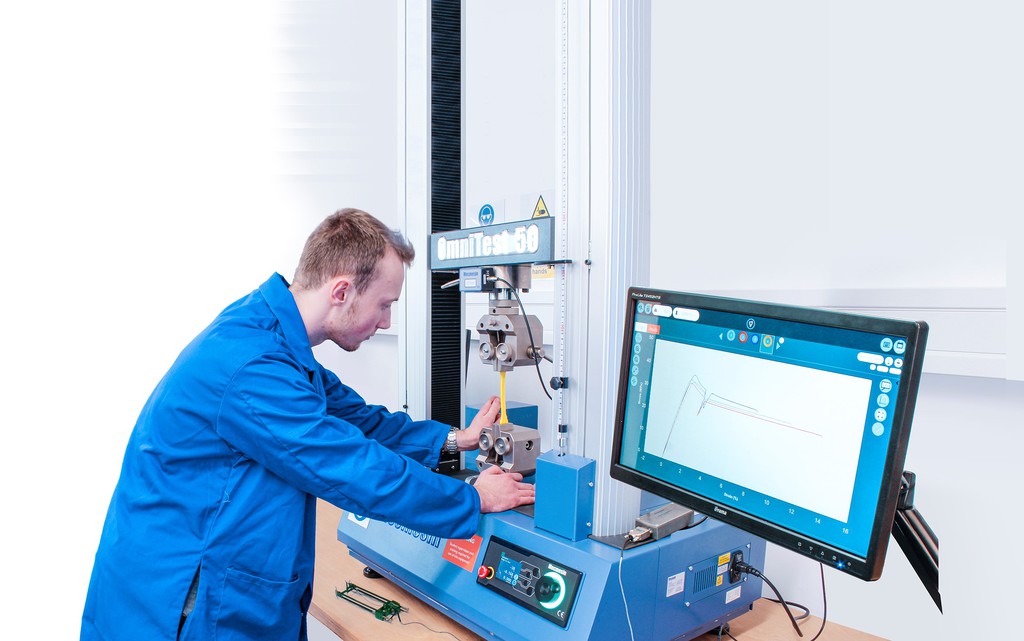 Designed to meet the diverse needs of both R&D laboratories and quality assurance environments, this new generation of material testers offers enhanced performance and value for money.
On show will be the OmniTest 5kN single-column tester, which is designed to accommodate tall specimens and has enough travel to measure the tensile strength of the most elastic of materials.
Mecmesin will also demonstrate a dual-column benchtop OmniTest 25kN system, designed for testing larger, higher strength samples.
The OmniTest is suitable for performing static tensile and compressive tests to measure the mechanical properties of a wide range of materials, including plastics, rubbers and elastomers, metals, composites, fabrics, glass and ceramics. Quantitative results for tests such as tensile strength and compression forces on materials are generated with a high degree of repeatability – essential aspects for effective quality control.
The OmniTest has a simple-to-use front panel for selection of test parameters, live load and length readings and precise manual crosshead positioning using the multifunction controller. Coloured LEDs indicate machine status during testing.
The OmniTest incorporates state of the art electronics and a range of high-resolution precision Enhanced Load Sensors (ELS). Load accuracy is 0.5% rdg with a resolution of 1:50000, allowing a wider range of tests to be performed without the need to select a different load sensor.
The system can be supplied with or without an extensometer depending on the customer's actual testing requirement.
At the heart of the OmniTest lies Mecmesin's new VectorPro MT material analysis software. Powerful, intuitive and touch screen friendly, Vector Pro MT has been designed with ease of use at the forefront through an intuitive drag & drop test builder, built-in stress-strain calculations, icon driven graphing tools and configurable reporting options.
VectorPro MT is intuitive to use with minimal training. The icon-based interface acts like a 'wizard' taking the user step-by-step through even the most elaborate and complex test routines quickly, with the ability to refine as you go.
VectorPro MT is built around a database that logs user permissions, test parameters, test versions and results. This database architecture provides an audit trail and e-signature functionality delivering compliance with 21 CFR Part 11 requirements.
Advanced Engineering takes place from 30th to 31st October 2019 at the NEC, Birmingham.
OTHER ARTICLES IN THIS SECTION