Home
>
Demonstrating the power of robotic intralogistics solutions
ARTICLE
Demonstrating the power of robotic intralogistics solutions
21 August 2019
ABB will feature at IMHX examples from its intralogistics solutions and digital portfolio. Experts will explain how they can be deployed to handle a wide variety of parcel sizes, distribution requirements and fluctuating demands typical of today's e-commerce markets.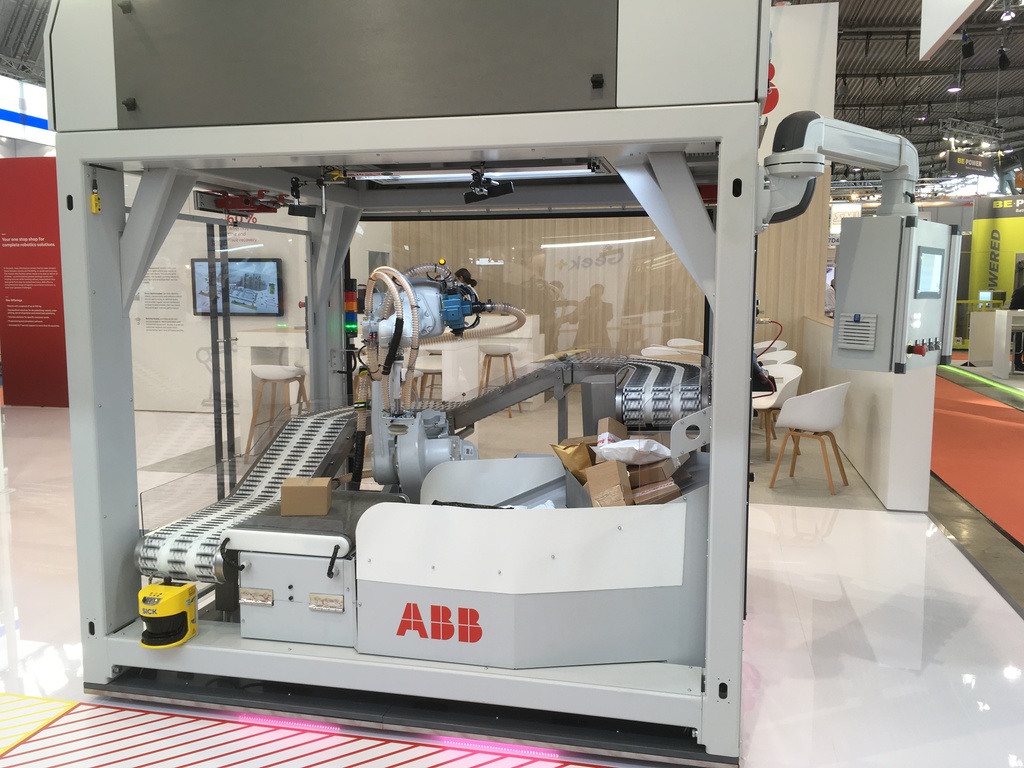 Demonstrations will show how solutions such as ABB's Singulator Cell can be used to separate small parcels from bulk flow as well as auto induction of parcels to sorter systems, an activity that is largely performed manually today. Sortation systems demand a close integration of robotic handling to the package conveying system, whilst providing operator ease-of-use and integration to logistics control software. Programmable controllers, independent shuttle handling, operator display screens, vision cameras and motor control solutions from B&R Industrial Automation, (part of the ABB company) allow the ABB Singulator cell to deliver high speed with high accuracy.
ABB's new OmniCore controller and Teach Pendant will also be showcased. This features ABB Ability, Connected Services and SafeMove2 safety software built-in as standard. The new OmniCore controller features a 50% smaller footprint for maximum installation flexibility and floor space utilization. Connected Services unlocks leading digital technologies providing customers with the option of monitoring robots whilst in production for greater performance and reliability. SafeMove2 enables operators to work safely alongside ABB robots with payloads ranging from 6 to 800kg without compromising productivity. Offering enhanced safety and simplicity, ABB robots provides distribution centres with the flexibility of operators and robots co-existing, enabling them to manage shifting demands such as low volume/high mix products.
"The growth of e-commerce and the shift to mass customisation means that distribution centers are handling a growing variety of packages and are faced with ever-increasing delivery expectations," says Russell Holmes, sales manager – service robotics at ABB. "At IMHX 2019, we will demonstrate how robotic automation solutions can help ensure that goods are handled with both flexibility and efficiency. Introducing robotic automation solutions such as singulation, sequencing, depalletising or mixed case palletising can help achieve greater productivity and reliability so that orders are delivered to the right place, at the right time." Stand 19J60
RELATED ARTICLES
No related articles listed
OTHER ARTICLES IN THIS SECTION