Home
>
Promat UK rolls out '360 degree Wheel of Assurance'
ARTICLE
Promat UK rolls out '360 degree Wheel of Assurance'
29 August 2019
The importance of supply chain traceability and quality consistency in delivering peace of mind in the application of fire, thermal and acoustic insulation is at the heart of a new initiative by Promat UK.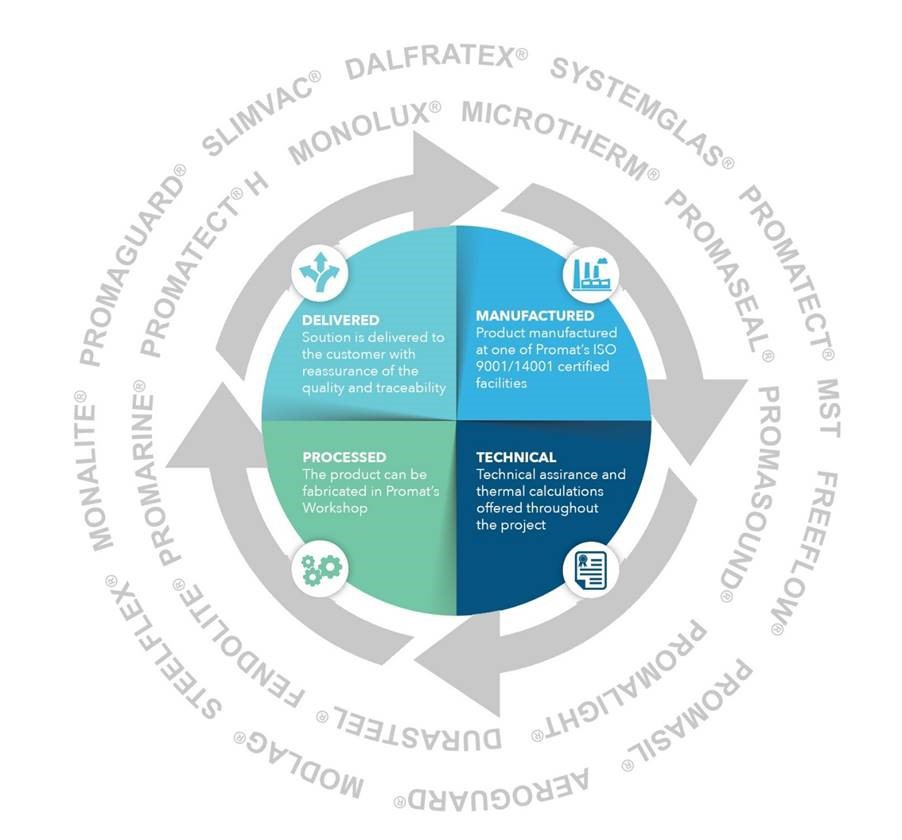 Following its success in raising awareness in the building industry about the fire safety risks posed by supply chain failures, the insulation manufacturer is extending the roll-out of its '360° Wheel of Assurance'. This assures designers, engineers and contractors that the insulation solutions needed for critical applications to control fire, heat and noise risks conform to the highest technical standards with clear visibility on the origin and quality of manufacture and processing.
Promat UK is able to offer this 360° oversight of the whole supply chain because it is both a manufacturer and a processor via its Promat Workshop division. This enables customers to benefit from specialist technical support by dedicated Segment Managers at every stage, including help with thermal calculations, fire performance and project support to ensure bespoke insulation solutions most accurately meet end user requirements.
The company manufactures and processes its market-leading products in its ISO 9001: 2015 and ISO 14001: 2015 registered facilities, providing customers with independently certified assurance with respect to quality consistency and environmental responsibility. This includes the production of its microporous insulation under the MICROTHERM and PROMALIGHT brands, PROMATECT H and PROMASIL calcium silicate products, PROMASEAL intumescent materials, DURASTEEL fire and blast systems and DALFRATEX high temperature textiles.
Ian Cowley, Regional Director (UK and Scandinavia) at Promat UK says: "We strongly advocate that insulation products are 'Specified for a Reason', a phrase we trademarked in 2018, because any supply chain interference or misunderstanding can result in costly and sometimes catastrophic failures. Any process that can eliminate the risks of even the tiniest product specification being changed, without a full understanding of the implications, can be extremely valuable and re-assuring in a market increasingly seeking traceability and confidence in product performance.
"With our '360° Wheel of Assurance', we can demonstrate compliance and offer peace of mind to anyone seeking a fire, thermal or acoustic insulation solution. Full control of the manufacture, processing, manipulation and fabrication stages is rarely found in the supply of insulation products, and our ability to provide this supported by technical expertise helps our customers to realise their design ambitions with greatly reduced risk."
With its continuous investment programme, Promat is also constantly adding new processes as part of the expansion of its Promat Workshop division, which is enabling a greater range of bespoke solutions to be available to customers.
Part of international building product manufacturing group the Etex Group, Promat UK has been producing fire, thermal and acoustic protection solutions for more than 30 years. In addition to its range of products for the industrial and engineering sectors, the company manufactures market leading high performance insulation solutions which are used in numerous hi-tech, building and manufacturing sectors.
RELATED ARTICLES
No related articles listed
OTHER ARTICLES IN THIS SECTION