ARTICLE
Sliding shelves
24 March 2014
BITO Storage Systems' new Smart Slide shelving system has a simple but effective sliding design that presents a large number of products at the pick face within a minimal footprint; it provides the flexibility to change pick slot sizes to meet changing needs and adheres to insurers' requirements for fire regulations.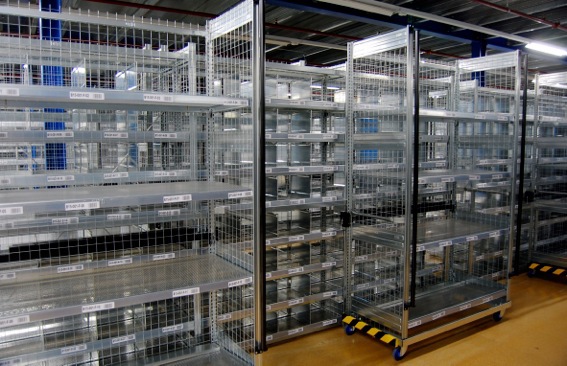 The company says the shelving can provide a 30% saving on floor space, offers a high number of flexible picking slots adjustable in size and location, a combines dense storage system for slow and fast moving products. It does all of this while producing a cost saving compared to a pallet racking based design for a bespoke picking solution. It is suitable for all kinds of picking operations, particularly eCommerce businesses and warehouses dealing with peaks.
Smart Slide is based on BITO's Boltless Shelving and works in a similar way to a sliding wardrobe. In other words, combines fixed shelving at the rear and a slideable shelving system at the front, allowing pickers to slide the bay to one side to gain access to the full width of each bay at the rear.
Each slideable front bay is mounted on castors and comes complete with a roller mechanism that allows it to slide easily and smoothly to one side - stops on the shelves prevent them from impacting into each other. For added flexibility, the bay can be released from the roller track, which connects it to the fixed shelving at the rear, by pulling down a handle on the mechanism. This allows the bays to be moved for replenishment purposes.
Smart Slide shelving includes BITO's new perforated sprinkler shelf, together with mesh sides and backs. This means that in addition to being light in weight, the design adheres to legal requirements in terms of fire regulations from insurers. Each shelf can support loads up to 100 kg.
A single module of the shelving will accommodate four, standard 600mm deep x 400mm high x 300mm wide containers. With four levels of shelves, the front bay can hold 16 containers. BITO can also provide an accompanying picking trolley, which has steps attached.
OTHER ARTICLES IN THIS SECTION