ARTICLE
Low cost, Easy to use MMS from the UK No 1
18 June 2014
Choice of Setup - Shire solutions can be effortlessly operated online through an internet connection (hosted) and on mobile devices.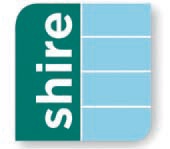 However, not every organisation requires or has access to a connection so Shire also have solutions for those who wish to install and maintain software on their own computer network (on-premise).
Benefits for the team
Easy to use • No nonsense interface • Efficient communication • Mobile applications - real-time or offline synchronisation
Benefits for the IT department
Use Out-of-the-box • Scaleable • Easy to install and deploy • Multi-platform, browser supported • Top class support
Benefits for decision makers
Improved insight • Savings through effective maintenance planning • Customisable KPIs & Dashboard • Graphical reports • Work Order Scheduling • Usage Maintenance & Meters Stock Control & Purchasing • Asset, Contact, Location & Task registers
Contact Shire to arrange a FREE TRIAL or register for a FREE ROADSHOW.
OTHER ARTICLES IN THIS SECTION