ARTICLE
Adhesive dispensing guns
05 September 2014
Nordson EFD has introduced a new line of manual, pneumatic, and cordless guns for dispensing two-component adhesives.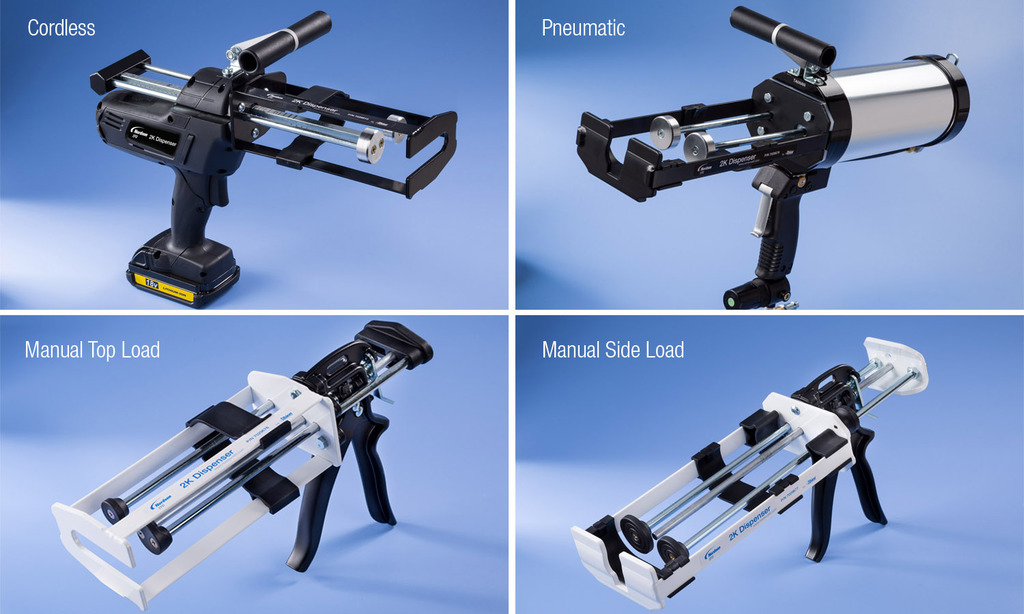 The guns are designed to make dispensing even the thickest of materials easier and less cumbersome. A 26:1 thrust ratio enables a lighter touch to dispense more material with each trigger pull. The dispensing guns are ergonomic, lightweight, and easy to load with a special secured snap feature.
They dispense two-component materials for applications such as injection into cracks, concrete anchoring, fixturing, windshield installation / replacement, and bumper repair in markets such as construction, automotive aftermarket, and aerospace.
The manual line of dispense guns have an adjustment screw that enables the drive system to be tightened, extending the tool's life and eliminating wasted motion. In addition, double grip plates and a steel trigger protect the drive system if the gun is dropped.
The pneumatic guns, which are activated by air pressure, are rated to 120psi operating pressure. The handle on top of the air cylinder enables easy, user-friendly maneuvering of the gun. A button just above the trigger lets the user toggle between forward and backward piston rod travel with a quick finger movement.
The cordless guns come with a Milwaukee 18V lithium ion battery. The gun is lightweight and, like the pneumatic gun, it has a handle above the drive mechanism. The battery has a digital display that shows the charge level. The guns also feature a speed control dial on the drive mechanism, which ensures that the adhesive is dispensed with the proper speed.
OTHER ARTICLES IN THIS SECTION