ARTICLE
Power & portability
08 March 2017
The Rebel EMP 215ic MIG/TIG/Stick welder from EASB offers primary power and location flexibility, while the Rebel EMP 215ic 120V-230V CC/CV welding system, provides multi-process arc performance, location flexibility, lightweight portability and an operator interface with LCD/TFT display.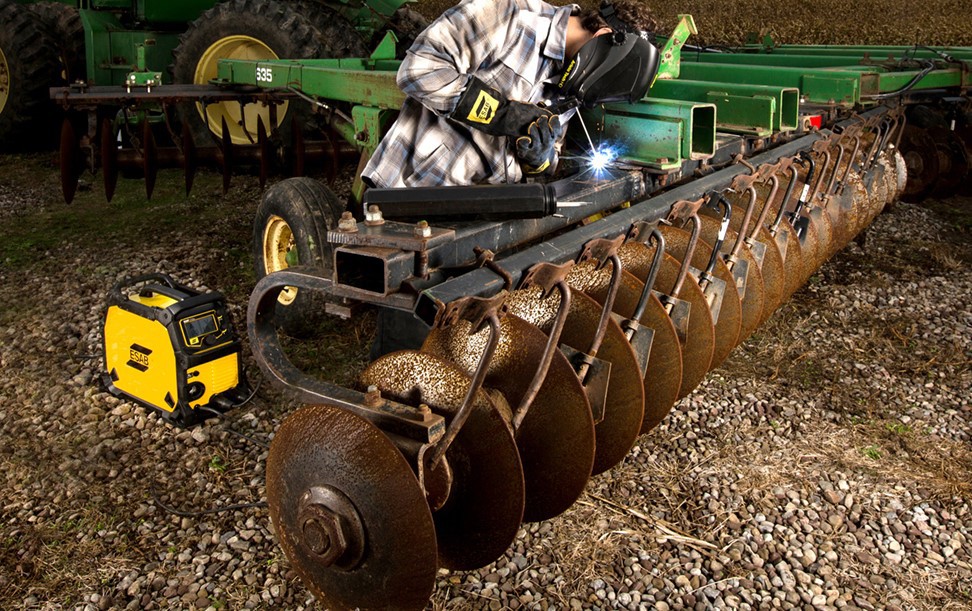 The sMIG ("smart MIG") function, enables users to begin MIG welding – with an extremely stable arc – simply by setting metal thickness and wire diameter. Unlike competitive units, there is no need to enter information for shielding gas mix.
Both units can weld dual shielded flux cored wire up to 1.2mm, perfect for small fabrication shops, construction sites and shipyards, particularly where it makes sense to run short welds with a portable machine and finish the length of the weld with a stationary unit.
"Rebel welders appeal to operators because they are the most powerful, portable single-phase units on the market," says Martin Freibergs, business product manager – Arc Equipment, ESAB. "Rebel enables users to be more productive, as well as improve results with their best-of-class arc performance."
Operators interact with the Rebel EMP 215ic using a unique control that combines traditional weld parameter adjustments with the functionality of a smart phone (in fact, the 110 mm color display uses the same thin-film transistor (TFT) LCD technology found in smart phones). No other welder combines this level of simplicity, performance and control. The TFT user interface offers in 21 languages (covering all of Europe), offering important information beyond weld parameters, such as part numbers for easy reordering.
For easy replacement of the torch, both machines contain EASB's Euro connector, allowing operators to quickly step up to a heavier-duty torch for additional feedability and current transfer, such as for aluminum or flux cored welding. Both units come standard with an MXL 200 torch.
The Rebel EMP 215ic provides an industrial quality arc for MIG, flux-cored, Lift TIG and MMA welding, including excellent performance with MMA electrodes up to 4mm.
"Rebel EMP 215ic's true multi-process arc performance eliminates the need to purchase separate welders for MIG welding and MMA/TIG welding, making it the best value on the market," says Freibergs.
When connected to 230V primary, the unit provides a MIG output of 20 to 220 amps, a Stick output of 30 to 160 amps and a TIG output of 5 to 240 amps. When connected to 120V primary, the unit provides a MIG output of 15 to 130 amps, a Stick output of 5 to 110 amps and a TIG output of 5 to 140 amps.
Rebel units accept 100 and 200mm wire spools, runs 0.6 to 1.2mm diameter wires. Rebel weighs 18kg, measures 584 x 229 x 406mm and features a five-handle roll cage and unibody construction that integrates the front, back and top panels to provide superior durability for protecting internal components.
The unit comes ready-to-weld for all welding processes. ESAB includes a professional-grade MIG gun, a stick electrode holder, drive rolls, contact tips, all required hoses and cables and a spool of ESAB´s innovative, non-copper-coated wire AristoRod 12.50
OTHER ARTICLES IN THIS SECTION