Home
>
Safety superiority at Coates
ARTICLE
Safety superiority at Coates
22 February 2018
Specialist storage experts Safety Unlimited is proud to have recently designed and installed a state-of-the art heavy duty unit at the nationwide Crewe HQ of H.W.Coates who are the leading name for the warehousing and distribution of packaged chemicals.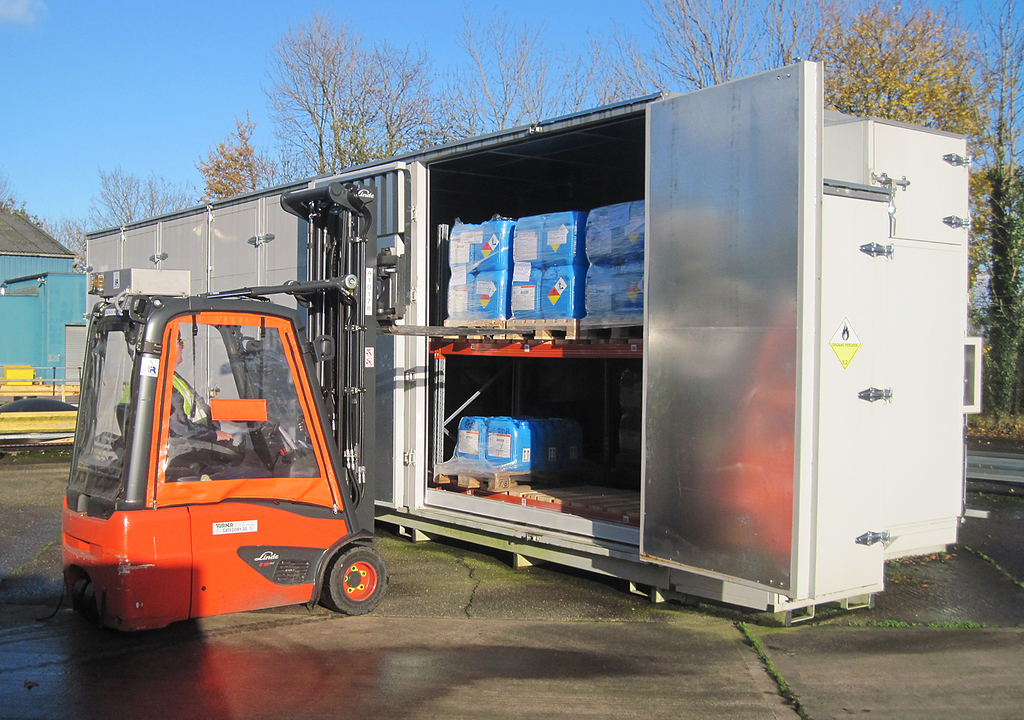 The bespoke facility was created to hold 9000 litres of Organic Peroxide in compliance with HSE Guidance CS21 relating to storage and handling, and also meets all environmental and health & safety legislation. Measuring 10.5mm long, and 3.2mm height and depth the gleaming white coated steel unit is fitted with 12 hinged doors and separate compartments for easy access.
It incorporates a host of linked and unrivalled features covering for example its own integrated air conditioning and external movement activated 6 x 500 watt floodlights; multiple fire control systems feature an externally fitted extinguisher cabinet, multiple detectors, 100mm insulation throughout the interior, 90 minute warning with sounders and beacons, water mist suppression, galvanised pitched roof and a fully welded anti-corrosive sump.
The customer Matthew Coates is impressed with this important acquisition. "We are one of the few companies properly equipped to store refrigerated hazardous chemicals," he said. "The unit from Safety Unlimited perfectly fits the brief, meeting all our regulatory and internal safety procedures. It is an excellent addition to our largest Upper Tier COMAH site. They have really thought of everything and the unit stands out in respect of best practice and given the demand for organic peroxide I can see a rapid and proven return on investment."
RELATED ARTICLES
No related articles listed
OTHER ARTICLES IN THIS SECTION