Dundee Gin selects new environmental presentation
18 February 2020
Dundee Gin has worked with Bell Packaging to deliver an environmental solution for its packaging.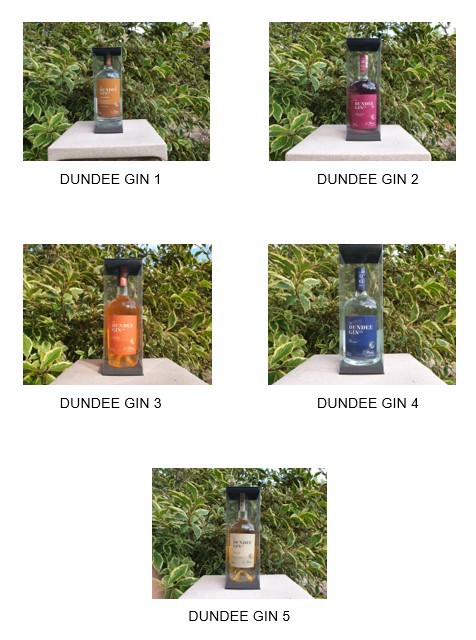 The Dundee Gin range comes in a number of flavours including Marmalade, Summer Fruits, Dundee Cake (50cl bottles) and White Dry Gin and 'Old Tom' Honey & Spice (70cl bottles). All flavours are also available in 5cl miniatures which can be purchased from leading High Street retailers.
Head Taster Peter Menzies met Bell at last years Scottish Speciality Foods Fair in Glasgow and comments "I remember the chap from Bell coming on to our stand. Being honest we had a complete nightmare with packaging and it was refreshing to find a company who was enthusiastic, positive and with a willingness to resolve our problems."
"Within 2 weeks they produced a range of alternatives using folding carton, PET, Polypropylene and recycled Retran. The Dundee range is very colourful so a transparent presentation really enhances the product on shelf."
"Our customers had asked for a combination pack and for this Bell sampled a duo, trio and 5-bottle set all using the same footprint. This means we can buy in small quantities with no tooling and very fast delivery."
The end cap solution provided excellent protection to the bottles – this is moulded in a low-density polythene which is 100% recyclable.
Dundee Gin selects new environmental presentation
To launch the presentation, it was decided to keep the packaging plain which enabled Dundee to customise the finished packs using printed labels and inserts.
When showing the packs to their clients Dundee Gin saw another opportunity. In August 2019 it launched its 50cl bottle presented in a Retran tube. This design incorporates the standard end cap on the base which gives excellent protection and a flat lid which is easy to secure and offers the ideal area for advertising.
The film used to produce the tubing contains a minimum of 70% recycled post-consumer waste. That's to say it is discarded rubbish – normally fizzy drinks bottles. This is collected, cleaned, chipped and reprocessed to form the core of the new Retran film.
The optical clarity of Retran ensures excellent presentation in store and the strength is comparable with virgin films.
The new presentation has been a success and the company has seen an increase in sales of its packaged products.
OTHER ARTICLES IN THIS SECTION