ARTICLE
New diamond grinding discs on show
16 June 2019
At Control 2019 Buehler ITW Test & Measurement presented its new Mosaic Diamond Grinding Discs (DGD).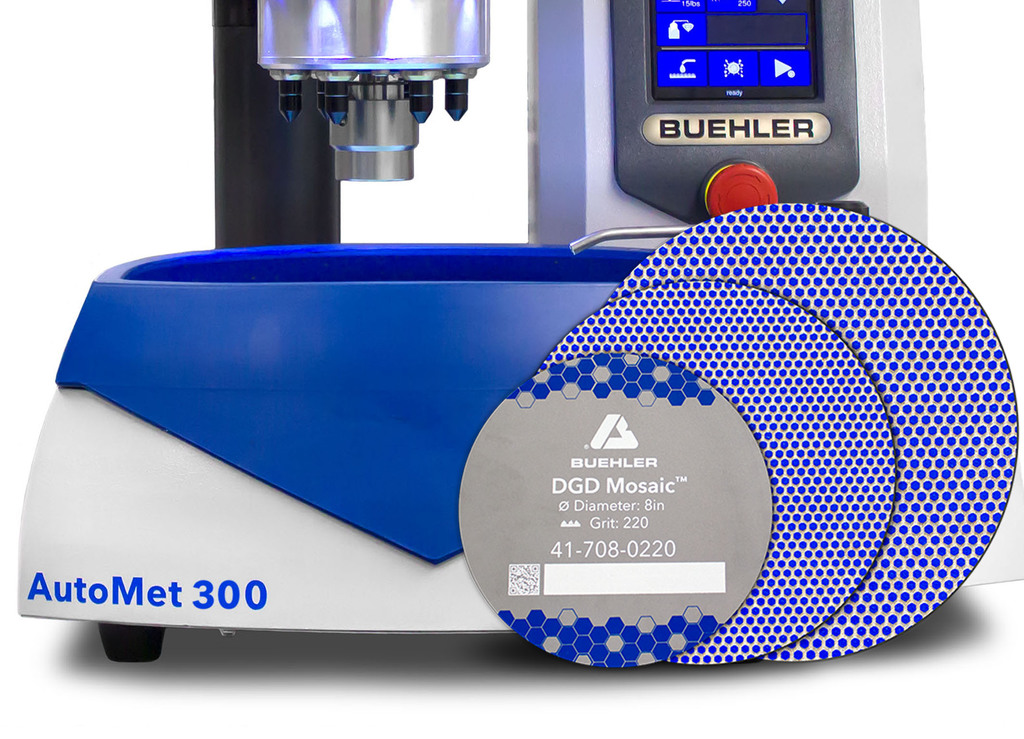 The fifth line of DGDs in Buehler's grinding consumables offering, they are designed to provide high material removal rates in sample preparation and are especially suited to laboratories working with medium to hard alloys, and materials that are difficult to grind.
The new Mosaic diamond grinding discs are available with a magnetic backing and come in 8, 10 or 12in disc diameters and in 120, 220, 320, 400 and 1000 grit sizes. Typical applications include the efficient grinding of steel, sintered carbides, thermal spray coatings, and other hard materials.
In addition to the high material removal rate, users are said to benefit from highly consistent results, labour savings and extended lifetime, all of which contribute towards reducing the running cost of consumables.
Optimum results can be achieved in combination with the powerful grinder-polishers from Buehler's EcoMet and AutoMet series, which are designed for demanding applications in production quality control. The new Mosaic Diamond Grinding Discs reduce the time required for sample preparation in many industries. In the automotive sector, for example, they are used to grind hard and heat-treated steel and other alloys; in the aerospace sector, to grind superalloys and thermal spray coatings; or in in tool making to grind samples made from cemented carbide.
Buehler's new DGD Mosaic grinding discs with their high material removal rate are suitable for hard to grind materials and rapid removal of sectioning damage.
DGD Color diamond grinding discs have a moderate removal rate for enhanced surface quality and can be used with the widest range of applications, including soft and ductile materials.
DGD Terra diamond grinding discs provide a moderate removal rate and excellent flatness for superior surface quality and are suitable for very hard and brittle materials such as ceramics and glass.
DGD Ultra diamond grinding discs have a moderate removal rate and are good for samples that combine both hard and soft materials and where flatness is critical.
All diamond grinding discs from the DGD range are available either directly from Buehler or through a global distributor. Product specifications, options and ordering information are available at: https://www.buehler.com/diamond-grinding-discs.php.
To complement its extended range of diamond grinding discs, Buehler also used Control 2019 to showcase its recently launched, programmable AutoMet 300 Pro Grinder-Polishers, capable of handling high sample throughput with maximum precision, and thus contributing towards increasing productivity and cost efficiency.
Further exhibits included new Wilson UH4000 universal hardness testers, along with a number of other products for grinding, polishing, sectioning and mounting of samples, illustrating the breadth of the company's portfolio, which covers applications ranging from fundamental research to automated, process-related quality assurance. Buehler's offering includes sectioning and precision-sectioning machines, mounting systems including the associated epoxy and acrylic mounting systems, grinding and polishing machines as well as Rockwell, Vickers/Knoop, Brinell and universal hardness testers, all of which can be tailored to individual customer requirements.
OTHER ARTICLES IN THIS SECTION