ARTICLE
Maximising noise awareness
19 November 2018
Communicating noise safety messages across warehouses, shop floors, factories and large construction sites can be a challenge. Pulsar Instruments offers a solution with its XXL (650mm square) noise-activated warning sign.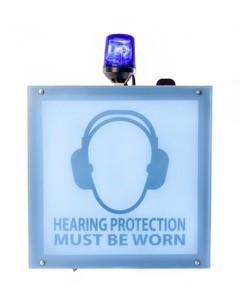 The sign, which uses a combination of high intensity white LED technology and a large flashing safety beacon, communicates noise safety messages across large and complex sites, and helps monitor and record ambient noise to alert staff and visitors alike to dangerous noise levels.
The PulsarSafeEar Max is simple to install and use. Its weatherproof and transportable, which means it can be used both inside and outside in fixed locations or on mobile tripods to monitor operatives over a working day or night shift and provide important data on noise exposure levels. The PulsarSafeEar Max comes with its own reporting and analysis software, allowing recorded noise levels and data to be printed, exported and annotated for reference.
OTHER ARTICLES IN THIS SECTION