ARTICLE
Shipyard solutions
30 July 2013
Hoists from J D Neuhaus, covering lift capacities from 250kg to 100t, are used worldwide within many heavy-industry applications including shipbuilding and offshore, covering newbuild, refits and repair as well as dismantling.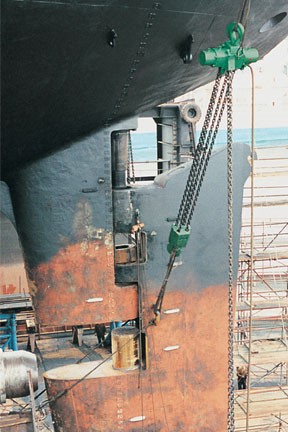 External shipyard applications include installation and disassembly of rudder blades, shafts and propellers; internal work includes heavy components for the engine room drive equipment as well as drive shafts and other general fitting out or installation work.
The air powered equipment enables a wide range of operations to be safely undertaken in outdoor damp, dirty or even hazardous area locations as well as indoor operation in dusty or potentially explosive atmospheres. Features include easy installation with robust, low-maintenance compact designs that combine reduced weights and easy handling with 100% duty rating toughness.
Operating air pressures range from 4 to 6 bar with lube-free performance ensuring non-pollution of the environment as exhaust air is oil-free. A range of optional pendant controllers are available to provide sensitive, infinitely variable speed controls. General insensitivity to dust, humidity and temperatures ranging from -20°C to 70°C helps to ensure an unlimited duty-cycle performance capacity.
OTHER ARTICLES IN THIS SECTION