ARTICLE
Self-powered temperature transmitter
24 September 2013
ABB has developed a standalone, self-powered temperature transmitter with WirelessHART, offering a cost effective and maintenance-free alternative to wired or battery-powered devices.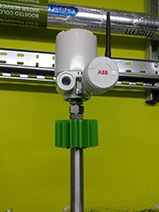 The transmitter features a built-in thermoelectric generator (TEG) and uses the Seebeck Effect to harvest electrical energy from thermal energy. The temperature difference between the ambient and the pipe temperature produces a voltage difference, which is then used to power the device.
This technology enables the transmitter to be fitted onto a steam or process pipe, with the latent heat being used to provide the power needed for operation.
To help protect against the risk of a power failure, for example if the process medium or steam flow is deactivated or the temperature gradient falls below the 30K needed to power the device, the unit also includes a back-up battery. Under ordinary circumstances, this battery should hardly ever need to be used, giving it a potential operating life of up to 20 years.
OTHER ARTICLES IN THIS SECTION