ARTICLE
Cylinder sensors for welding
21 February 2014
The latest pneumatic cylinder sensing innovation from ifm electronic can withstand the electrical interference from powerful welding fields.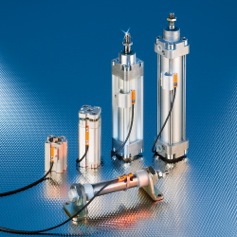 These new versions of the MK series, MK5214 and MK5215, feature a patented method of detecting the external field and suppressing the sensor output until interference has passed. The new MK is claimed to be the only T-slot sensor with a stable signal, independent of the welding duration.
It fits easily into the T-slot on standard pneumatic cylinders, or equally into adapters made to fit most other common cylinder types, and does not sit proud of the slot which affords additional mechanical protection.
The short connecting cable of the weld-field-immune MK5124 and MK5125 is protected from weld spatter by a PTFE sheath, and the connector (M12 on the MK5124 and M8 on the MK5125) is coated in a highly-resistant non-stick material.
OTHER ARTICLES IN THIS SECTION