ARTICLE
New chairman for CFTS
02 July 2014
Consolidated Fork Truck Services (CFTS) has appointed Mike Mathias of Toyota Material Handling UK as its new chairman. He takes over from Richard Hayes of Brindley Lift Trucks, whose two-year term of office has seen continued growth and success.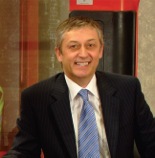 CFTS, the collaborative body behind the fork lift truck industry's national accreditation scheme and standards for Thorough Examination, is 10 years old this year and Mike Mathias is keen to highlight what it has achieved.
"Thanks to CFTS we can offer consistently high-quality Thorough Examinations that cover the requirements of LOLER and PUWER, developed for fork lift trucks and backed by a strict code of practice. We now have more than 400 companies accredited to the scheme, allowing customers, wherever they are in the UK, to benefit from the peace of mind that comes with the CFTS 'kite' certification mark.
"Since that launch our commitment to increasing user awareness of the need for high standards in Thorough Examination, and to supporting accredited companies with expert advice and training, has gone from strength to strength.
"Increasingly our emphasis has been on making advice and guidance available to those responsible for fork lift trucks online. To that end I would encourage everyone to visit the CFTS website at: HYPERLINK "http://www.thoroughexamination.org" www.thoroughexamination.org.
OTHER ARTICLES IN THIS SECTION