ARTICLE
Igus provides reliable, maintenance-free products Delivered in 24h from stock - No minimum order value
17 June 2014
igus® has been at the forefront of the plastic industry since 1964, and is one of the largest producers of injection moulded plastic bearings and reinforced plastic cable carriers in the world. The globally recognisable product lines include e-chain cable carriers, chainflex flexible cables, iglidur plastic bearings and robotic applications to name but a few.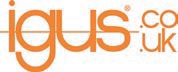 For years the igus motto has been "Plastics For Longer Life". The production of plastic product meets with industry standards, parts are quick and easy to install, reduce maintenance work, achieve technical improvements, reduce costs and increase the service life of your machine – and everything can be delivered immediately from stock.
Our products last
All igus® products undergo rigorous and extensive testing within the company's in-house laboratory. These tests resemble challenging working conditions to ensure the best possible product is put forward. This proven reliability not only means that there is no need for costly, unscheduled maintenance – machine downtime is reduced, increasing productivity and overall service life.
Polymer Bearings
iglidur® polymer plain bearings from igus® do not require oil or grease, therefore are maintenance-free. More and more industries are switching to plastic plain bearings due to their dry-running nature. Clean, grease-free plastic plain bearings are often selected over traditional metal plain bearings because dirt and debris build up is totally eliminated, reducing maintenance runs.
Energy Chains
igus® energy chains® and energy chain systems® are like the umbilical cords of modern machines. Designed to guide and protect moving cables in dynamic applications, they help to increase service life. Also, the modular design format makes installation processes quick and easy.
Highly Flexible Cables
Totally reliable chainflex® cables from igus® are designed for continuous flexing in e-chains®. They're adverse to corkscrewing, loose jackets and fraying, due to their specially bundled core elements and gusset filled extruded jackets. The cables are suitable for a vast range of industries and ensure production processes and energy supply is trouble free.
To find out more about our maintenance-free products, please visit our homepage where your products of interest can be easily selected and more information provided.
OTHER ARTICLES IN THIS SECTION