ARTICLE
Tooled up to cut costs
29 October 2014
Since introducing a range of power tools and abrasives from diversified technology company 3M, global supplier to the automotive industry GKN Structures has reduced the number of metal finishing power tools used in its Telford plant by almost three quarters and achieved annual savings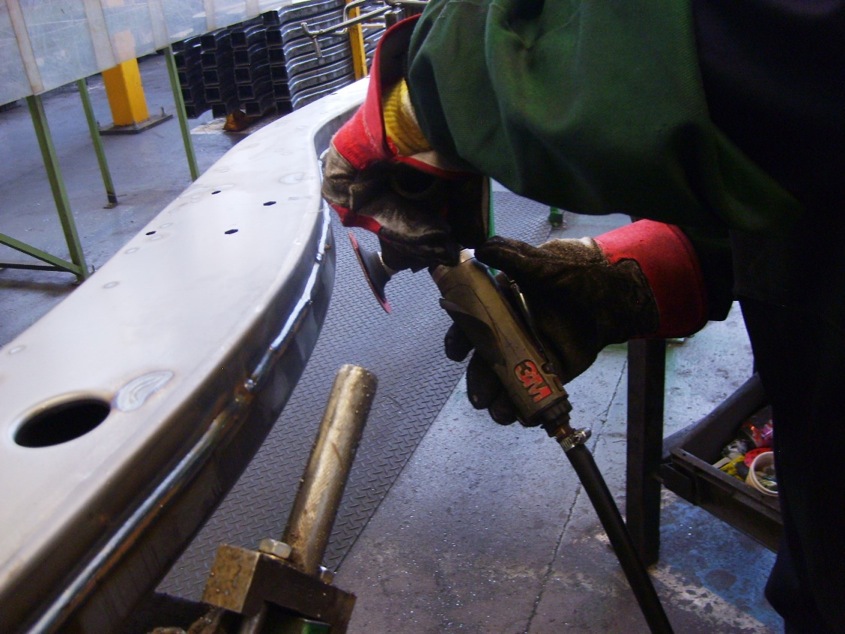 The GKN Structures factory in Telford, part of GKN Land Systems, designs and manufactures parts such as cast aluminium wheels, chassis systems, suspension components, and body structures. The company is well known for Chassis Systems which was initially formed to produce the chassis structures for a leading manufacturer of four-wheel-drive vehicles.
In order to achieve the precision process required in the production of the chassis, which involves the use of more than 200 parts, GKN Structures relies on tools and products that produce a quality finish, are long-lasting, and protect the health and safety of its engineers. The company's highly automated welding and fabrication operation produces in excess of 100,000 units per annum.
In recent years, a greater emphasis is being placed on reducing Hand Arm Vibration Syndrome (HAVS), an industrial injury triggered by continuous use of vibrating hand-held machinery. In order to combat this problem, GKN Structures carries out regular testing of its current tools, and considers new products in order to reduce the risk of HAVS to its employees.
Initially Nigel Denning, health & safety improvements facilitator from GKN Structures approached the Abrasive Systems Division of 3M to trial a selection of its products in order to complete a metal finishing process on a rear crossmember on a vehicle. The application of choice was a tough duo created from the partnering of the Roloc Air-Powered Disc Sander with the Roloc Quick Release System (both by 3M) combining performance and durability. This is said to allow greater accessibility to work pieces compared to conventional larger disc attachments. All models feature a powerful, high torque air-motor to optimise the performance of the disc system and provide a fast, efficient method for grinding, blending, deburring and finishing on all types of metal. GKN Structures used it in conjunction with Roloc Discs by 3M, and by so doing found a solution that optimised performance.
Denning said: "We selected the Roloc Disc Sander by 3M on the basis that it was lightweight, very powerful, and gave us the finish we wanted. The range is ergonomically designed which maximises the productivity, and reduces operator fatigue and discomfort. We are always looking for ways to improve our process and protect our people and these tools are a great contribution because the speed they offer means that our engineers are spending less time using them, but are getting better results."
The Health and Safety Executive highlights the guidelines surrounding the issue of vibration exposure in the workplace. The exposure action value (EAV) is a daily amount of vibration exposure above which employers are required to take action to control exposure. For hand-arm vibration the EAV is a daily exposure of 2.5 m/s2 A(8) and testing by GKN Structures of the Roloc Air-Powered Disc Sander by 3M found it to operate at the exact required level. Following these early assessments the company introduced the product into the Telford plant, and it now has about 50 of the tools that are in constant use across the site.
In addition to the sanders, GKN Structures has started to use Die Grinders by 3M, a key development for the company as it has resulted in longer lifespan of tools. Before, it would use 30 to 40 grinders a year, however, since it has brought in Die Grinders by 3M, this figure has reduced to just eight per year, resulting in a significant annual saving.
Denning added: "We are really pleased with the Die Grinders. Everybody likes using them because they are comfortable to operate and we find that they last a lot longer than other brands. We currently have 20 across our factory which are in regular use."
GKN Structures now uses a variation of four different power tools and eight different abrasives products across its site. All are produced by 3M and include Elite Random Orbital Sanders, Hook-it Discs, and Roloc Surface Conditioning c Discs.
OTHER ARTICLES IN THIS SECTION