ARTICLE
Hand-held CANopener
31 May 2017
SICK has developed the SICK PGT-12-PRO, a hand-held programming tool for encoders and sensors with a CANopen interface.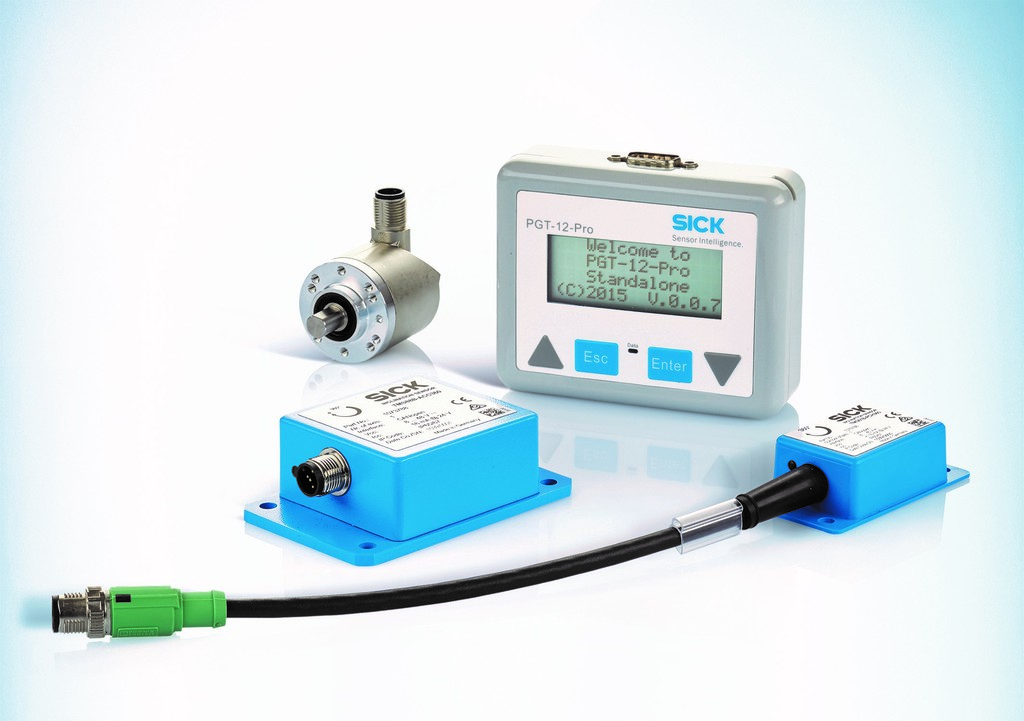 The battery-powered SICK PGT-12-PRO is a pocket-sized programming tool, designed initially for rapid configuring and programming of SICK's AHS/AHM36 programmable absolute encoders and TMS/TMM inclination sensors with CANopen or analogue output.
With a large LED display and simple intuitive menu structure, the PGT-12-PRO enables easy set up and adjustment of parameters such as node-ID and baud-rate without having to complete complex and time-consuming set up.
"The PGT-12-PRO shows the future of flexible and easy-to-use programming in CANopen environments," says Darren Pratt, SICK UK's encoder specialist. "Integrating encoders and sensors into a CANopen fieldbus can vary significantly between different applications and often requires specialist programming knowledge and skills.
"Whether in the design office, on the production line, or in vehicles out in the field, the PGT-12-PRO liberates the engineer from having to complete remote programming via a PLC or PC."
Sensor upgrades and new functions for the PGT-12-PRO programming tool can be installed easily via a firmware update. Configurations can be saved to the device's SD card, then transferred quickly to enable device replacement and also cloned to enable easy installation of any number of identical applications and configurations.
The pre-configured node ID is easy to adjust with the PGT-12PRO to eliminate conflicting addresses. Baud rate, frequency and type of parameter transfer are also simple to manage, allowing data load and transmission speed in the fieldbus to be controlled to the optimum. Mapping and assigning the process data objects for the encoder are quick with the PGT-12-PRO, and monitoring the CANopen nodes can be achieved without choosing between node guarding and heartbeat protocol techniques.
SICK's award-winning 36mm programmable absolute encoder, the AHS36 (single turn) and AHM36 (multi-turn), set the benchmark for an SSI and CANopen-compatible encoder.
The PGT-12-PRO opens up new possibilities in particular for using the 36mm encoders, together with SICK's EcoLine and HighLine wire draw encoders and
TMS/TMM inclination sensors, for applications in industrial and outdoor vehicles. SICK will also offer variants of the AHS AHM36 with a compact, universal cable outlet and IP69K enclosure rating especially for installation into vehicles, where space is often tight, later in 2017.

OTHER ARTICLES IN THIS SECTION