ARTICLE
Update for clamping force measuring device
05 September 2019
For manufacturers to optimise production processes, it is important to consider user feedback on product functionality. Hainbuch has done just this, developing an updated version of its Testit clamping force measuring device for external and internal clamping.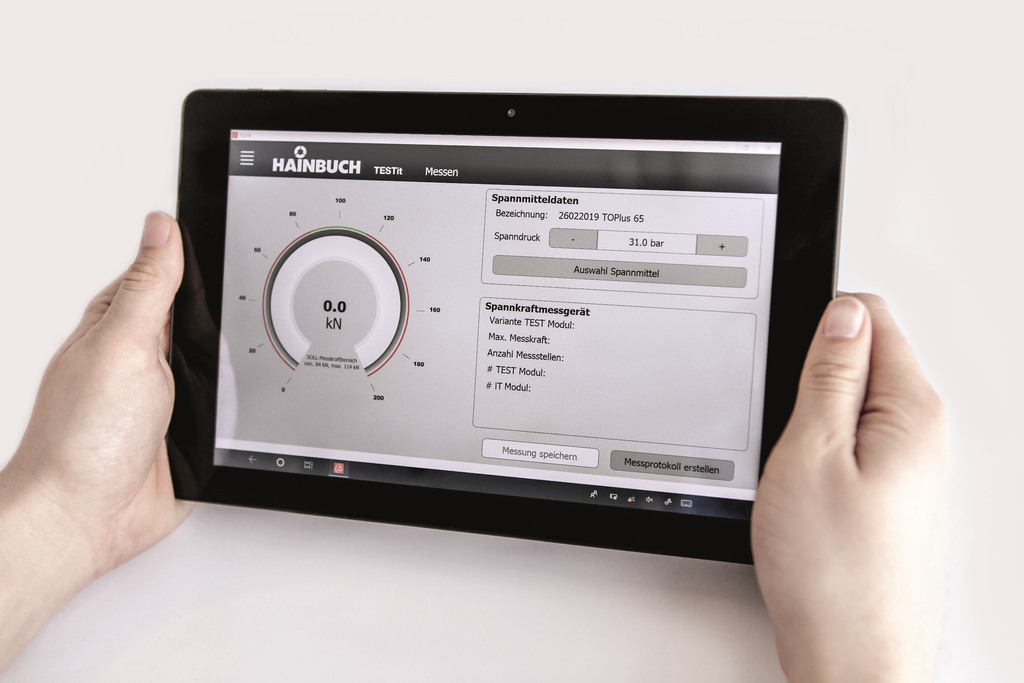 For Hainbuch, six years after the product was launched, the complete re-design has enhanced the electronics whilst enabling Hainbuch to offer an even more attractive price point.
The new generation of clamping force measuring device is now made up of two parts, the Test Module or measuring unit that changes depending on the specific measurement application and the IT Module or basic unit. Combining the different variants makes for a flexible solution that can measure almost anything.
The innovative product update can be used on multi-spindle machines, turning centres and machining centres. Furthermore, the system incorporates an additional module for measuring and recording the insertion force of hollow shank taper tool holders (HSKs). The Testit works as a modular system with plug-and-play functions that communicate via new software that can be viewed on a 10in tablet, on a USB stick or as a download.
Two products instead of one
The Hainbuch Testit was only previously available as a complete unit and users bought one Testit for external clamping, another for internal clamping and depending on requirements, other features for different sizes or specific applications. The costs to end users were prohibitive and Hainbuch has taken steps to rectify this. Now, customers only need to purchase one basic unit or IT Module, regardless of whether they need to measure the external or internal clamping forces or pull-in forces. The Test Modules are then added to the basic unit that also fits the specially-designed versions of the measurement modules. Hainbuch says this means costs are significantly lower when compared to alternate measuring devices available on the market and that for customers buying two or more devices, costs are almost cut in half. With the plug-and-play function, each measuring unit can be detached from the base unit with just 3 screws, allowing customers to swap-out features quickly - just as customers are used to doing with Hainbuch clamping modules.
To retain process stability, precision and productivity, regular monitoring of the clamping and draw force is essential. Today, no one can afford to manufacture with just 'theoretical values'. Nobody wants to have workpieces rejected because the clamping force is too low or have part deformation if the clamping force is too high? Likewise, detecting the lubrication and contamination status can also prevent costly and unscheduled maintenance. In any case, DIN EN: 1550 specifies that static clamping force measurements are to be carried out at regular intervals. The new Testit device measures and records the clamping and draw forces, even in the case of special versions.
Software handles more data
The program for visualising the measured values has three display variants that can be viewed via a tablet: the speedometer display or a bar graph or line diagram for displaying the measuring force changes under speed. An integrated administration database allows users to select their current clamping device and their machine tool. All data is maintained and clearly presented in the database. The measured values are archived as PDF and CSV files. In addition to the language selection of German and English, French is now also available and other languages will follow.
OTHER ARTICLES IN THIS SECTION