ARTICLE
Customised data documentation
14 March 2019
The WeldCube data documentation solution from Fronius comes in different versions to meet the needs of small enterprises through to major corporations.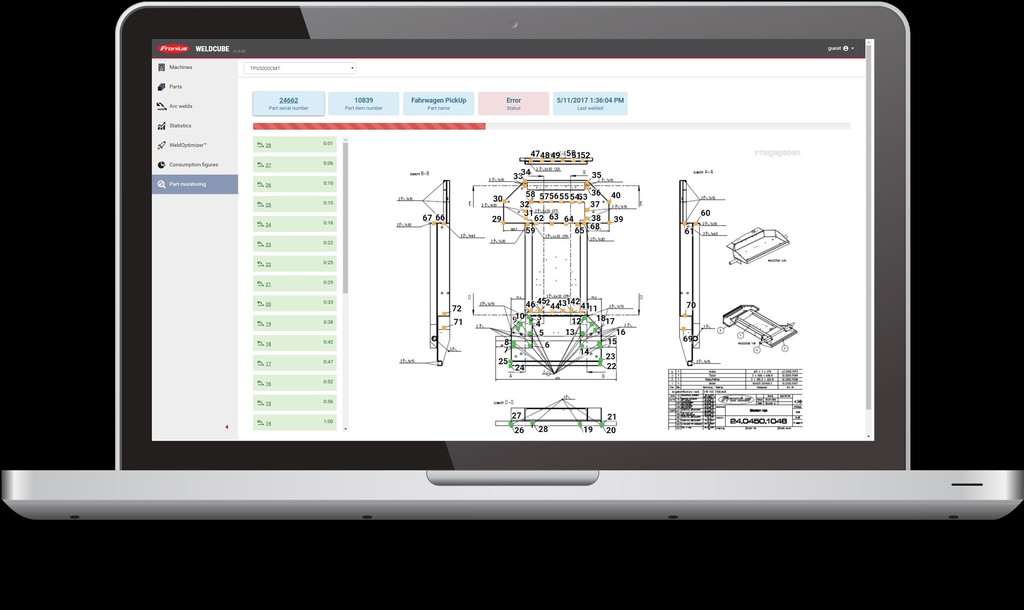 Documenting production data ensures the transparency and traceability of individual steps in the production process, which contributes towards consistent quality in production and helps minimise risks. Managing data digitally also saves time and money, as handwritten notes become a thing of the past and an analysis can be generated at the touch of a button.
A digital data management tool for welding technology helps users keep an eye on each individual weld seam as well as the overall system status, allowing errors to be detected. WeldCube from Fronius is said to deliver all these benefits. Users can choose from three different versions: Light, Basic, and Premium.
WeldCube Light is the beginners' version. Data are gathered decentrally for each welding system, enabling traceability at weld seam level. The web-based feature is contained in the SmartManager of every Fronius TPS/i power source and can be used free of charge. The system records the time, duration, current, voltage, wire speed, and power for each weld seam, and stores the mean value. Users can export this information as a PDF. The parameters of jobs can also be viewed and compared. WeldCube Light conforms to EN 1090.
WeldCube Basic is a suitable solution for smaller businesses, where only a limited number of welding systems are in use. This version of the software decentrally records the precise actual values at a sampling rate of up to 100 milliseconds. It is also possible to monitor limit values – for each welding task, users define parameter limit values and the system informs the user if these are undershot or exceeded. Part that may not conform to the required quality standards can therefore be checked and rejected immediately. Like WeldCube Light, with WeldCube Basic data are recorded on the welding system itself and can be viewed online for each TPS/i. The user can create or edit jobs in the tool and transfer them to other devices using the import and export function, saving them time. All data can be exported as PDF or CSV files.
WeldCube Premium saves welding data from multiple Fronius systems in a central database. In addition, it offers intelligent management, statistics, and analysis functions. Saving data from networked Fronius systems centrally enables data to be documented in relation to each component and separate PDF reports to be generated per component. WeldCube Premium monitors the progress of a component and provides details on every weld seam. The software uses a traffic light system to show in real time whether a seam has already been welded and whether any limit values were violated. The system prepares data analyses in table or graph form at the touch of a button. With the help of intelligent filters, users can create and share their own statistics. What is more, they can customize the user interface to meet their needs. Prepared data can be sent to third-party systems using the file export feature and web API interface.
OTHER ARTICLES IN THIS SECTION